Nash Partnership, the Bath-headquartered planning, architecture, heritage and placemaking consultancy, has promoted two of its team members to associate.
Architects Laura Mitchell and Richard Mather-Jones have been with the practice since 2012 and 2016 respectively.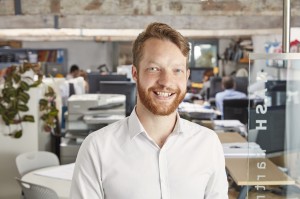 Richard, pictured right, has extensive knowledge of 3D modelling, particularly using Revit software and BIM methodology in the construction industry while Laura,
pictured below,
is a project design mentor who works across the practice's heritage and placemaking teams.
The practice said the move reflected its growing portfolio of national and Bath-based work as well as its continued focus on quality management and commitment to providing opportunities for upskilling.
As well as working on schemes across all RIBA work stages, Richard is a design team model manager for the practice, helping to manage the quality of drawing outputs at Nash Partnership and sharing best practice.
He is also a key member of the practice's professional operations team, which ensures professional standards and quality control.
Many of the projects Richard has worked on are in sites of historic sensitivity. This led to his design work becoming characterised by both contemporary and contextual architecture.
Richard's projects include Riverview Court at Onega Place in Bath, a development of 44 contemporary apartments, café and public realm enhancement overlooking the River Avon and adjoining Bath's Grade II* listed Victoria Bridge, and a sustainable, highly bespoke one-off home in Lansdown, clad in charred Shou Sugi Ban timber, replacing a low-quality dwelling in a sensitive part of the city.
Laura's experience includes working for public bodies, local authorities, private developers, and individual homeowners.
Her project work ranges from large-scale housing developments and mixed-use masterplans to domestic heritage projects and includes the phased regeneration of the former MOD Ensleigh site on the outskirts of Bath, where Linden Homes Western, Bloor Homes and Spitfire Homes are building 240 homes, a neighbourhood retail store, a 60-unit extra care facility and a primary school, and the £49m regeneration of the 212-home Priorswood estate in Taunton, which was a finalist at the 2019 RTPI SW Awards.
Nash partner Daniel Lugsden said: "Our practice – and our design service in particular – continues to grow in both the scale of projects we're working on and the depth of knowledge we bring to ensure their success.
"The promotions of Laura and Richard to associate architect will help to ensure we have the right skills at the right levels to resource the range of services we offer.
"We're committed to developing our people by providing opportunities to upskill and growing the practice organically.
"We've no doubt Richard and Laura will continue to be successful as part of the Nash team and in helping to drive our success through their motivation and passion."
Nash Partnership, which also has an office in Bristol, was launched more than 30 years ago. Its team-focused, creative culture is geared to working on both small and large projects – from individual homes to large-scale urban regeneration projects.
It places the UN Sustainable Development Goals (SDGs) at the heart of its approach.