The founder of a communications consultancy that specialises in promoting purpose-driven companies and charities has been named as one of the PR sector's top practitioners.
Ben Veal, pictured, launched Holt-based Second Mountain Comms during the first national lockdown with a mission to help good people to do good by sharing their values and accomplishments in meaningful ways.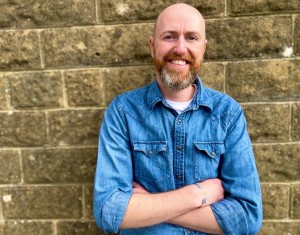 Having won Gold last October in the Independent PR Practitioner of the Year category of the CIPR (Chartered Institute of Public Relations) South of England and Channel Islands PRide Awards, Ben has now landed the 'Mark of Excellence' for in the same category at the CIPR's national Excellence Awards.
Having been staged for 38 years, the awards are regarded as the industry's most prestigious, reflecting best practice in communications and recognising the work of PR practitioners around the globe.
Ben collected his accolade in front of more than 550 PR professionals at a ceremony, pictured, in London on Wednesday hosted by BBC Final Score presenter Jason Mohammad.
Ben Veal said: "To be recognised at this high level by my peers within the PR industry as a leading independent practitioner is genuinely overwhelming.
"I set up a business with purpose at its heart during those very tough early months of the pandemic. To have seen it flourish during this time and to have been able to directly support some truly inspiring charities and companies over these last two up-and-down years, has been a real joy and the highlight of my professional career to date."
He said a fast-growing percentage of consumers and employees now expected organisations to operate ethically and sustainably.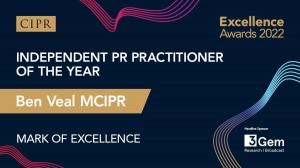 "The brave new world that we're now beginning to move towards post-pandemic calls for more brands and business leaders that are committed to making a genuine, positive impact on society going forward to rise up and be seen," he added.
"It's the stories of these individuals and firms that I'm truly excited to have the opportunity to share."
Ben and his team of trusted creative partners deliver strategic PR and content campaigns for a host of regional, national and international clients, including mental health support charities Charlie Waller Trust and Somewhere House Somerset, sustainable tea producer Organic India, and People against Poverty, a Wiltshire-based not-for-profit organisation committed to alleviating poverty around the world.
The awards were introduced by business minister Lee Rowley, who spoke of the UK PR industry as leading the world and as a "trusted and valued sector".
CIPR president Rachel Roberts said: "When a light is shone on our industry it really demonstrates the breadth of talent, creativity, and passion that flows throughout it.
"Ours is work that makes a difference for our organisations, our clients and the public and it is what makes PR one of the most rewarding industries to work in."