Quartet Community Foundation, the organisation that inspires local philanthropy to give everyone in the West of England a fair chance of a good life, is celebrating handing out £50m in grants since it was founded in 1987.
Thirty-two years ago the Foundation awarded £16,585 to 19 projects, including ACTA, which received a grant for drama work with young people struggling at school.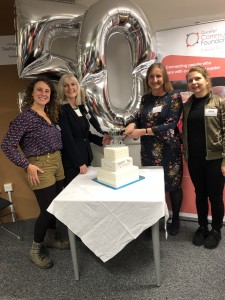 Over the past three decades Quartet has continued to support ACTA with grants – so it was fitting that it joined the Malcolm X Elders from Bristol to put on a special performance of 'We have overcome', which tells the true stories of the Windrush Generation, at the organisation's recent annual celebration.
Other projects backed in its first year included Dhek Ball (formerly Barton Hill Asian Women's Group), Windmill Hill City Farm and Clutton Toy Library received between £100 and £2,500 each, the Foundation has grown steadily.
Last year Quartet awarded 877 grants worth more than £3.5m to small, local causes, the highest amount in its history.
Chief executive Sue Turner said she was proud to say over its 32-year lifespan Quartet had stuck to its original remit of giving money "where it's most needed".
To mark the £50m milestone the third Penny Johnstone Award – set up in memory of Quartet's founding director – and a £500 cheque was awarded to Tess Cartwright and Kate Bevan from Invisible Youth, a group based at Felix Road adventure playground in Easton, Bristol. The award recognises the fun and creative opportunities they offer local children, including Roma children.
Sue Turner added: "People involved in Quartet in the early days had a vision of how philanthropy could make a difference to local communities.
"What I'm most proud of is that the Foundation has kept its original remit of giving money to where it's most needed – to small charities and organisations that many people may never have heard of, but who we know do an amazing job of supporting local people in need.
"Personally I find it inspiring to see the real impact this work has. We've gone on to expand our work, such as developing our knowledge through our research, but the grant-giving is where it all started and it continues to flourish.
"It's a wonderful thing for everyone at Quartet Community Foundation to know the funding is being used to do so much good and to continue to empower and boost communities, and to know that the small, local community groups find us approachable and open to growing together.
"None of this would have happened without the vision of those early philanthropists, and the new ones who join us each year."
The Foundation specialises in offering philanthropy advice and support to more than 270 philanthropists across Bristol, Bath & North East Somerset, North Somerset and South Gloucestershire who hold funds with them. These funds are then used for grant-making to local causes including voluntary and community groups.
Its Express Grant Programme offers grants of up to £5,000 and is open all year. Other grant programmes are available for local projects, including some available specifically for groups in certain areas such as the North Somerset Community Transport Fund and the B&NES Community Wellness Fund.
Pictured, from left: Tess Cartwright from Invisible Youth, with Sue Turner, Harriet Walker and Kate Bevan, also from Invisible Youth, cut the cake marking £50m in grants