Two Bath public relations firms have struck gold at the top awards for the region's PR industry.
Geometry PR won two categories as it enjoyed another triumphant evening at the Chartered Institute of Public Relations' (CIPR) West of England PRide Awards.
Geometry's campaign Creating a Local Hero for Bath law firm Mogers collected the Best Corporate and Business award while its campaign for the Bath Business Improvement District (BID) topped the best Regional Campaign category.
Highlight PR won gold in the Best Low Budget Campaign category for its phenomenally-successful campaign for Bath-based Norland College, Britain's oldest and most prestigious nanny college.
The awards, which this year celebrated their 10th anniversary, showcase the cream of the region's public relations agencies, in-house teams, individuals and campaigns. They are widely regarded as the most prestigious and rigorous awards of their kind.
More than 220 guests attended the black-tie dinner when 23 awards were handed out to 13 recipients.
Fellow Bath PR consultancy Media Safari, which primarily works with tech brands, was nominated for the Best Use of Media Relations award with Passion for Paralympics: One event, 10 days, 59 media briefings.
Pictured right: Geometry collect one of their two awards. From left, Geometry's Emma Sparks and Linda Donaldson with CIPR president Sue Wolstenholme
Geometry director Linda Donaldson said: "This is the sixth year in a row that we have won Gold for our campaigns at these awards, which as a small agency is pretty pleasing given the scope of the competition.
"We really do enjoy what we do and we pride ourselves at being able to consistently deliver excellent results, receiving these two Gold awards are certainly testament of that."
CIPR South West chair Sarah Pinch said: "On behalf of the CIPR I would like extend huge congratulations to Geometry PR.
"It is a real honour to have received the regional category, which is quite a new award for PRide and pitches some of the best regional campaigns against each other. We had a large number of entrants from some very talented organisations, Geometry PR should be extremely proud to have taken the top spot in two categories. The PRide awards enable us to celebrate the wealth of talent in the region. Judged by leading industry professionals from across the UK, they are an important benchmark for professionals across the South West, and allow us to formally recognise outstanding contributions to public relations."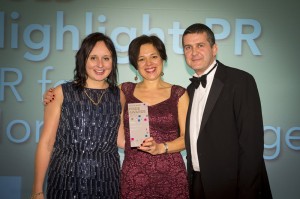 Pictured right: Lucy Aston and Alison Vellacott of Highlight PR with Will Marsh, head of corporate communications at category sponsors the University of Bath
Highlight PR's campaign for Norland started with the arrival of the first male student on the college's newly-introduced degree course, then capitalised on 'royal baby' fever in the UK with the story of how Norland now includes skid-pan driving and self-defence classes as part of their practical training for 21st century nannies.
Throughout, Highlight positioned Norland as a trusted voice on childcare reform and as the UK's leading establishment at which to study for a career in childcare.
Over 12 months, Highlight secured more than 112 pieces of news coverage, 99.8% of which were features exclusively about Norland. This coverage helped increase applications to the College by 60%, enabling 13 extra places to be offered for this year's intake, worth a total of almost £500,000 of fee income over three years.
Highlight PR director Alison Vellacott, who founded the agency nearly 15 years ago with Nick Vellacott, said: "We were thrilled to win this award, as recognition of what we achieved last year for Norland, given such a modest budget. It is particularly rewarding to see the direct impact of PR: our news stories reached global audiences, traffic to Norland's website exploded, and as a result there was an immediate increase in applications to the college."
CIPR president Sue Wolstenholme added: "The South West CIPR PRide Awards celebrate the very best public relations campaigns, teams and individuals from across the South West. The exceptional quality of entries received this year is a real testament to the thriving industry which exists here in the South West. The CIPR PRide Awards represent the best, most creative and most effective public relations work across the UK regions and nations and to win an award is a great achievement."
The full list of the 2013 South West PRide Award winners is:
Corporate and Business Communications – Creating a local hero – Geometry PR
Not-for-Profit Campaign – Moving a Hospital: The Royal Eye Infirmary – Plymouth Hospitals NHS Trust
Internal Communications Campaign – Fridoids for TGI Friday's – Octane
Community Relations Campaign – The T-pylon project – Camargue
Public Sector Campaign – Moving a Hospital: The Royal Eye Infirmary – Plymouth Hospitals NHS Trust
Low Budget Campaign – PR for Norland College – Highlight PR
Consumer Relations Campaign – Royal Mail's Golden Olympics – Royal Mail South West
Best Use of Media Relations – Colourology with Rainbow Club – Octane
Integrated Campaign – Polo on the beach 2013 – Barefoot Media and Watergate Bay Hotel
Best Use of Social Media – Dr Martens Stomp West – Octane
Best External Publication – Hop – Stagecoach South West (Astley Media)
Best Internal Publication – intouch – The Hills Group
Best Event – Dr Martens Stomp West – Octane
Issues and Crisis Management – Securing Justice for small businesses for bank mis-selling – Bully-Banks Ordinary People in Business
Best Use of Photography or Design – Sweet Eve Strawberry – PamLloyd PR
Regional Campaign of the Year – Building confidence in the bid – Geometry PR
Outstanding Freelance Practitioner – Shelley Fletcher-Bryant MCIPR
Outstanding Young Communicator – Lisa Hale, JBP PR & Parliamentary Affairs
Outstanding Small Consultancy – Barefoot Media
Outstanding In-House Public Relations Team – Gloucestershire County Council
Outstanding Public Relations Consultancy – Octane
Best Use of Planning, Research, Measurement and Evaluation – Polo on the beach 2013 – Barefoot Media and Watergate Bay Hotel
Outstanding Contribution to the CIPR South West – Sarah Pinch FCIPR
Photography by Peter Alvey www.peteralvey.com/