Bath has one of the most vibrant economies in England with a strong creative and cultural scene, according to new analysis published today – but it lags behind many other areas of the country when it comes to inclusion and equality.
And while it boasts an entrepreneurial and innovative economy as well as a healthy population compared to other towns and cities, it faces challenges on job creation and prosperity.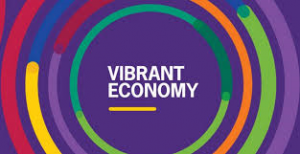 The findings emerge from a major research project published by accountancy group Grant Thornton. Its Vibrant Economy Index provides an indication of social performance as well as economic, and measures how towns and cities compare on a range of factors from prosperity to health, wellbeing and happiness, and dynamism and opportunity.
England's 324 local authority areas were measured by key factors in each performance indicator and awarded an overall 'vibrancy' score
Bath & North East Somerset (B&NES) appears at 23 in the overall table of all 324 areas on the index, which is headed by Cambridge and Oxford (at first and second place) and dominated by areas in London, the South and South East.
B&NES' lively and creative cultural life puts it in 24th place when its 'community, trust and belonging' are measured.
The report classifies these areas as "vibrant communities [that] have a lively and creative cultural life, and a clear identity that all its people are proud of. People feel safe, engage in community activities and trust the integrity of businesses and institutions."
It's 'dynamism and opportunity' place it in 34th position in the ranking with an economy that is "entrepreneurial and innovative, with a population that has skill sets that can drive future growth".
B&NES also scores highly for the health and wellbeing of its population, showing its people "are healthy and active, leading fulfilling lives which provides individual prospects".
However, in line with other recent reports on its economy, the area falls down on its inclusion and equality – coming in at 144th place, showing that not everyone benefits from its economic growth and that there is a gap between its richest and poorest residents.
It also scores surprisingly low for its 'prosperity' – which rates the performance of its economy in producing wealth and creating jobs. B&NES comes in at number 106, below towns such as Middlesbrough, Ipswich and Basildon.
The Vibrant Economy Index is published ahead of Grant Thornton's Live Lab event on March 1 at At-Bristol where influencers and leaders from the private, public and third sectors will discuss how to work together and shape the future skills of the West of England.
Grant Thornton South West partner John Panteli said: "The West of England is a fantastic place to live and work, but the Vibrant Economy Index has indicated that opportunities for growth still lie in the region.
"The Live Lab event will help us to consider the West of England's strengths and explore how we can work together to build on what gives the region its competitive edge.
"We have an ambitious aim for the day, tackling how we can help educate, train, attract and retain the people with the skills that the West of England needs to grow.
"How do we ensure we've got the jobs those people need and how do we create an environment that means people want to keep living in the area? We believe that if we can get our businesses, community leaders and public sector organisations working together, we can find ways to make this aspiration a reality."
The Vibrant Economy Index is based on 52 indicators of performance, tracking factors that enable businesses, communities and individuals to thrive. These include economic measures and combines them with data around fuel poverty, obesity levels, air quality and crime rates to give a picture of how a place is performing – not just economically, but also socially., with 100 being the average
For more information on the Live Lab event visit: http://bit.ly/2jMugxJ