Businesses across the West were celebrating last night as they received awards for community and sustainability work from Business in the Community. The national charity, led by HRH The Prince of Wales, is committed to building resilient communities, diverse workplaces and a more sustainable future.
The annual Responsible Business Awards ceremony, at St George's in Bristol, recognised the powerful and positive role South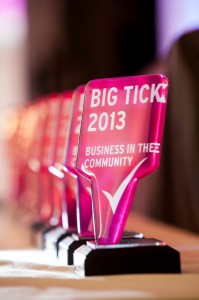 West businesses are playing in responsible business. It also celebrated individuals and business leaders within the region who have made a significant personal contribution to the local community.
More than 15 businesses were commended for their responsible business programmes, including construction group Kier, Swindon-based Nationwide Building Society, MITIE, the Bristol-based outsourcing group, and Wates Construction. Carillion Construction received a Local Impact Award, sponsored by wealth management group St James' Place, for its work to ensure the development of the new Southmead Hospital site involved the local area as much as possible.
As a result of the Kier Group initiative, 80% of the staff working on the hospital construction project (6,400 people) are from within a 30 mile radius of the site, and 63% of the materials and services used in the construction are from Bristol and the South West.
Kier Construction also received a Local Impact Award for its work with Shekinah, a homeless charity based in Devon, and their Re:work programme. Re:work is a socially responsible employment service which works with candidates who have complex barriers to finding employment. Through this work, Kier has helped nine candidates into employment in 12 months and have supported 12 candidates through training and placements.
The awards were presented by Tim Pemberton, managing editor at BBC Radio Bristol, alongside Stephen Howard, chief executive of Business in the Community, who said: "Corporate Social Responsibility is moving from something that's nice for companies to have, to something that's imperative – it makes for better communities, happier employees and ultimately more successful businesses. There is some inspiring work going on in the South West with businesses of all sizes, which is making a big impact across the region."
A full list of winners is as follows:
Local Impact Awards
South West Building Stronger Communities Award
Winner: Kier Construction
Winner: Carillion Construction
Winner: Danone Group
South West Employee Volunteering Company of the Year Award
Winner: Nationwide
Highly Commended: Ecclesiastical Insurance
South West Employee Volunteer of the Year Award
South West Business Class Award
Winner: Ecclesiastical Insurance
Highly Commended: Wates Construction
Big Ticks
Customer Engagement on Sustainability
Education Award
Jaguar Landrover Marketplace Sustainability Award
Responsible Business of the Year
Platinum Big Tick awarded to MITIE
Sustainable Supply Chain Award
Santander Responsible Small Company of the Year
Reaccreditation: Henry Orchard and Sons
Reaccreditation: Red Hotels Group
M&S Sieff Award Winner, South West
Winner: Rob Hall, Lloyds Banking Group