Bath's Christmas Market, which returned this year for the first time since 2019, has been described as a "resounding success" by business and tourism chiefs, while Google has revealed it was the second most searched for festive market in the UK.
Visitor numbers were up on some days compared to three years ago, while overall footfall is expected to be in line with 2019's figures.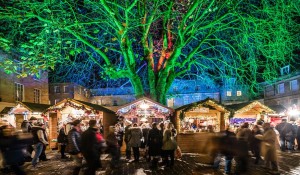 This year the market had its largest footprint with its 170 chalets providing a showcase for 200 traders, 36 charities and 20 smaller Christmas carts.
Held over 18 days, the market traditionally attracts around 400,000 extra visitors to the city, boosting its economy by an estimated £32.5m.
While full figures have not yet been released for this year, Bath & North East Somerset Council, which runs the market, Visit West – the destination marketing organisation that includes Visit Bath – and Bath Business Improvement District (BID) all hailed its success.
The BID's footfall counters across the city centre, which is uses to analyse how it is performing, showed visitor numbers in line with 2019, particularly at weekends.
BID chief executive Allison Herbert said: "The train strike on the first weekend may have impacted numbers on that Saturday but the other weekends were up on 2019.
"We saw an increase in midweek visits compared to 2019 on some dates and an increase in the number of visitors who remained in the city after traditional shop closing time.
Now that the city is a bit quieter, we really urge visitors and locals to come and shop local and have the satisfaction of choosing gifts for their family and friends which have been selected by the creative and hardworking retailers in the city centre."
Council leader Kevin Guy said: "We are delighted that the 20th Bath Christmas Market has been a resounding success.
"Anyone who has been out and about in the city over the past couple of weeks, will have seen for themselves how busy this hugely popular event has been and we have early indications that weekday and evening footfall was on the up.
"Thank you to everyone who has helped the market rebuild after a three-year break and we look forward to welcoming the fantastic traders and visitors back to Bath again next year."
Visit West director of tourism Kathryn Davis added: "We have been thrilled by the response from visitors this year.
"Its beautiful setting makes it one of the most iconic festive sights in the UK, and Bath one of the most festive break destinations.
"There are still lots of festive activities taking place and plenty to continue to entice visitors to make the most of the season, with more than 90 events listed on the Visit Bath website as well as favourite museums, attractions and local shops."
Milsom Place manager Andrew Davies said the return of the market and the associated increase in footfall had a positive economic effect on the Milsom Street area, with food and beverage establishments reporting a significant uplift in trading.
Research by Google showed the market coming second only to Lincoln's in the number of searches made by people looking for the best places to find quality Christmas gifts.
Google Customer Solutions, UK & Ireland, managing director Alice Mansergh said: "This time of year is when both online and in-store shoppers begin to make their final purchasing decisions as they gear up for the biggest shopping season of the year.
"It's also the time of year that many people turn to Google Search for suggestions of experiences such as Christmas markets to help them get into the festive spirit. Christmas markets in Lincoln, Bath, Winchester, Edinburgh and York stand out as some of the top searches this December.
"Many consumers taking care to seek out the perfect gifts for their loved ones. During difficult times, it's noteworthy that people are seeking to support British businesses, with searches for UK made gifts up 5000% this December. There is a desire for uniqueness and personalisation too – from personalised nursery rhyme books to personalised dog gifts."