Bath's Christmas Market, which returned last year for the first time since 2019, attracted an estimated half-a-million visitors, according to official figures just released – making it one of the most successful in its 20-year history.
Footfall was round 25% up on pre-2019 average and while the financial impact of the market has not yet been released, its success is understood to have brought a significant boost to the city's economy.
In previous years it has brought in an estimated additional spend of £32.5m for the city's cafes, bars and shops as well as the market traders.
The layout of the market, which run for 18 days between 24 November and 8 December, was altered to reduce overcrowding in areas of high footfall and for the first time 20 smaller Christmas carts were introduced at a reduced rate to enable more micro-businesses to sell their wares.
In total 200 local traders and 36 charities used the 178 chalets to sell seasonal gifts, food and drink in what was the market's 20th anniversary.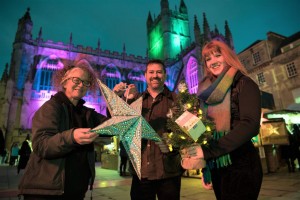 Bath & North East Somerset Council, which took over the running of the event in 2020, said feedback from visitors and stallholders had been overwhelmingly positive, with 94% of stallholders reporting a successful market and 95% of visitors saying they would consider returning to Bath at another point in the year.
Initial data from an independent survey of visitors to the market commissioned by the council reveals almost half come every year.
In addition:
75% who visited Bath over the period came solely because of the Christmas market.

37% stayed for an average of 2.4 nights.

74% shopped outside the market.

79% ate a meal in a local restaurant.

48% came on foot or used public transport.
Council leader Kevin Guy, pictured above with stallholders, said: "Bath's Christmas Market has been consistently ranked in the top 10 in Europe for a number of years and for many people it's a highlight of their festive calendar.
"After a two-year break because of Covid, it was wonderful to dust off the chalets and welcome back the stallholders and visitors.
"Running the market for the first time as part of 'Bath at Christmas' worked incredibly well, the illuminations added to the festive atmosphere created by the market and after the dark days of the pandemic the city really felt alive again."
He said the market was a fantastic draw which had boosted the local economy, including hotels, pubs and restaurants.
"It's also really encouraging to hear the majority of visitors enjoyed their time here so much they are considering coming back," he added.
"We're always looking to improve though and planning is already under way to make this year's Christmas market even better."
Among the traders taking part in the market was Zoe from Zoe Rose Art, who aid: "As a local artist, having the opportunity to trade at Bath Christmas Market was a bucket list moment and the experience did not disappoint.
"The organisation, planning and support of the events team were second to none, every detail was thoroughly planned and executed."