A team from Bath-headquartered law firm Royds Withy King has advised the shareholders of two fast-growing businesses that maintain grass verges on roads and central reservations on their sale to one of the UK's leading traffic management firms.
Camps Highways and Camps Environmental Services (CES) were acquired by Chevron TM, which provides traffic management services in areas such as highway maintenance as well as working with the utilities, rail and events sectors.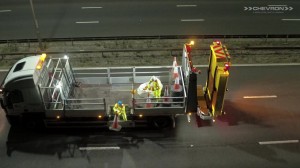 Based in Thame, Oxfordshire, and part of Scandinavian private equity group Triton since 2018, Chevron is the UK's leading digital safety company with depots across the country.
Camps Highways and CES, which are headquartered in Presteigne, Powys, employ 38 people and have a combined turnover of £5m. They operate from depots in Hampshire, Cambridgeshire and Worcestershire.
As well as maintaining green road verges and central reservations, Camps Highways carries out tree and weed control services, while CES supplements this offer with a range of specialist arboricultural, landscape and environmental consultancy services. Its clients include local authorities, rail companies, utilities and events organisers.
The Royds Withy King's advisory team on the deal was led by corporate partner James Worrall and included Nicola Anderson (corporate), Tim Gofton (employment) and Krysha Hunt (real estate).
James, pictured, said: "We are very pleased to help deliver this deal which will allow Camps Highways and CES to expand their services nationwide and build a new and exciting future for their business and their workforce."
Camps Highways managing director Jim MacPherson, added: "I am pleased to be joining forces with the Chevron Group. At Camps Highways and CES we have grown our business by building a strong reputation for delivering a high level of service and providing expert consultancy and advisory services to our clients."
The Swindon office of corporate finance specialists Watersheds acted for Camps Highways and CES founder Michael Camps along with Newbury-based accountants Ross Brooke.
Full service law firm Royds Withy King also has offices in Swindon, Oxford and London.