Fast-growing rural broadband provider TrueSpeed is stressing its community benefits through a new brand identity and website.
Keynsham-based TrueSpeed was launched five years ago by three investors fed up with poor broadband in their homes. It has since grown exponentially and connected its 2,000th household earlier this year.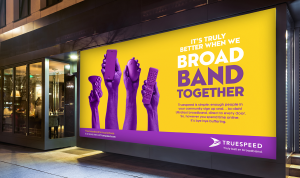 Bristol-based marketing agency Mr B & Friends was appointed to develop the TrueSpeed brand by demystifying the technology and helping people to understand that fast, reliable broadband is "a right not a privilege".
The creative approach was inspired by TrueSpeed's community-based model, which requires a proportion of the community to sign up in order to be installed in an area.
The firm helps communities by reinvesting profits into the area and installing free ultra-fast broadband to its schools and community hubs, as well as supporting events and organisations integral to the places it serves.
The agency developed an identity that pulls on the 'when you broadband together' idea combined with visuals of hands holding internet-enabled devices aloft – the result being a rallying call to communities to adopt TrueSpeed.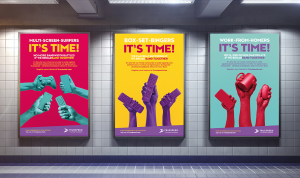 The new branding uses bright, bold colours which set it apart from rivals. It has been applied across the full suite of sales and marketing materials while the redesigned website displays the product options with straightforward explanations and an easy to navigate interface.
Mr B & Friends executive creative director Steve Richardson said: "Community engagement is very much at the heart of Truespeed's proposition, so it was important that this was brought to the fore of the brand. The new brand not only engages the community, but actually creates its own community."
TrueSpeed director of marketing Bartholomew Day admitted its previous brand had been disjointed.
"Customers found it confusing and didn't truly reflect who we are as a company. We wanted to create a brand that people would really want to get behind," he said.
"What Mr B & Friends have developed is really exciting and will help us to capitalise on the momentum that we're seeing as the company continues to grow."
Since relocating from Bath to Bristol in 2017 Mr B & Friends has won a series of new local and national clients. Among its recent high-profile work has been the redesign of Bristol City FC's crest and a new website for self-invested personal pension schemes (SIPPs) provider Curtis Bank.