Staff from Bath-based law firm RWK Goodman are to aiming to raise £20,000 for its four charity partners by walking the 130 miles between its headquarters in the city and its London office.
The Step Ahead Challenge will involve a team of employees taking part in the sponsored walk over 10 working days between 12 and 23 September.
RWK Goodman previously staged the challenge in 2018 when 130 employees raised more nearly £18,000.
The four charities which will benefit this time include Trauma Breakthrough, which was selected by staff at the firm's two Bath offices as its charity partner from 2021 to 2023.
For every £175 raised, Trauma Breakthrough can stage a two-hour support group for six to eight male survivors of sexual abuse.
RWK Goodman charities committee chair Sophie Webb, pictured, said: "The 2018 event was incredibly successful. As well as raising almost £18,000 for our chosen charities, we found that the event itself was extremely inclusive and we wanted to embrace that.
"Walkers don't have to be super athletic to take part. It's a challenge that many across the firm feel they can participate in."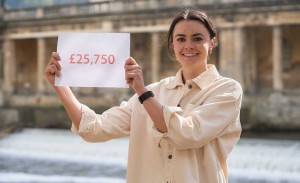 The other good causes to benefit this time are homeless charity Centrepoint, selected by RWK Goodman's London office, Sobell House, which provides palliative and end-of-life care and was chosen by its Oxford office, and Swindon office-backed food bank charity Swindon Food Collective.
Corporate social responsibility is one of RW'K Goodman's core values and an inherent part of the firm's culture, with partners and staff heavily involved throughout the year in a wide range of charitable and community-led initiatives.
RWK Goodman, which employs more than 600 people, was formed earlier this year from the merger of Bath-headquartered Royds Withy King and London practice Goodman Derrick.
As well as its two offices in Bath – Northumberland Buildings in Queen Square and Midland Bridge House on Midland Bridge – it also has offices in Bristol, Swindon, Oxford and London.