Low-cost airline Ryanair is to introduce the first direct flights from Bristol Airport to the northern Polish city of Bydgoszcz as part of its winter 2022 schedule.
The addition of Bydgoszcz, pictured, the country's eighth-largest city, means the Irish-owned budget carrier will fly to 29 destinations from Bristol this winter, including popular tourist centres such as Madrid and Vienna.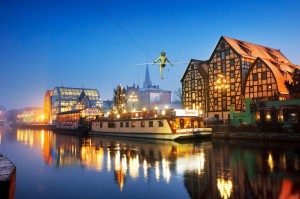 Bydgoszcz, which has a population of around 400,000 and is around 226km (140m) from Warsaw, is home to the world's only Museum of Soap and History of Dirt - an establishment that offers "interactive time travel through the history of cleanliness, dirt and soap making", according to Visit Bydgoszcz's website.
Ryanair, Europe's largest airline, already flies to six other destinations in Poland from Bristol. The weekly flights to Bydgoszcz, which start on November 4, will leave Bristol every Friday at 6pm, with the return flight leaving Bydgoszcz the same evening at 9:50pm.
Ticket prices for the two-hour, 25-minute flight will start at £19.95 one-way.
Ryanair director of commercial Jason McGuinness said the airline's winter schedule from Bristol, which begins next month, would offer 180 weekly flights across 29 routes, giving its customers more choice of destinations than ever before.
Earlier this year Ryanair began operating its new 197-seater Boeing 737-8200 MAX aircraft on flights from Bristol.