A string of strategic acquisitions over the past year helped propel Bath-based media group Future's revenues to a record high, its latest financial figures showed today.
For the first time the much-restructured group's operations in the US – where it has made its largest acquisitions – brought in more revenue than those in the UK, according to its results for the six months to March 31.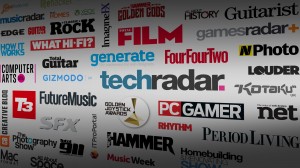 Future, whose UK titles include TechRadar, PC Gamer and Guitar World, said the results showed it had "achieved a step change in scale", with adjusted headline earnings increasing by 169% to £23.7m following the £100m takeover of the business-to-consumer arm of leading US publisher Purch last September.
That deal added popular US tech and science platforms such as Tom's Guide, Tom's Hardware, Space.com and Live Science to Future's burgeoning portfolio.
In March it snapped up global digital publisher MoNa Mobile Nations for $55m (£41.5m) in cash and $5m paid for by issuing new shares. MoNa's key brands, including Android Central, iMore, Windows Central and Thrifter, combine content, community and commerce to deliver what Future described at the time of the takeover as "shopping enablement solutions".
The previous month it had bought Cycling News and Procycling Magazine from Bristol and London-based Radio Times publisher Immediate. The deal came five years after Future had sold them along with most of its sports, craft and hobby magazines and websites to Immediate for £24m to stave off a looming financial crisis.
Today the group, which has undergone a root-and-branch restructuring since then, said it had also achieved a "significant growth in audience" with overall online audience up 188% year-on-year, and organic sites up 25%. Operating profits were up by 163% to £10m.
Total revenues were 103% to £108.7m. It also said its stated ambition to diversify revenue geographically into US was progressing well with 52% of group revenue (£56.2m) now coming from the US against 20% last time. The group was now the market leader in consumer technology in US.
It was also highly cash generative with adjusted free cashflows up 172% to £27.5m, which, along with a £135m financing package, could fund further acquisitions.
Future chief executive Zillah Byng-Thorne said: "We have delivered a record-breaking first half of the financial year and the continued execution of our strategy to deliver growth through audience engagement and technology innovation is generating clear value across the business.
"In addition, we continue our ambition to expand the scale and diversification of the group. This was accelerated in the first half through two acquisitions: Mobile Nations increases our presence and positioning in the technology sector in the US, while ProCycling and Cyclingnews.com give us a credible foothold in a new specialist community.
"We have seen the strong momentum continue as we enter the second half of this financial year, with acquisitions performing well and continued positive organic growth in the Media division. We will continue to drive scale and value through the successful execution of our strategy as a global platform business, driven by technology with diversified revenue streams."
Looking ahead, Future said it expected the strong momentum to continue into the second half of its financial year, with its acquisitions performing well and continued positive organic growth in the Media division.
It added: "While the backdrop of an uncertain economic outlook remains, the board anticipates the Group's performance for the full year to be ahead of its previous expectations."
At lunchtime Future's shares were trading at 983p, up 138p – or 16.33% – on the day.