Sales at Bath-headquartered eco home products firm Bower Collective have risen by nearly 240% as more households look to cut plastic waste.
Launched three years ago, the firm is looking to transform the way we buy home and personal care products and reduce plastic waste while also fighting against the 'greenwashing' that characterises the way many consumer groups market their products.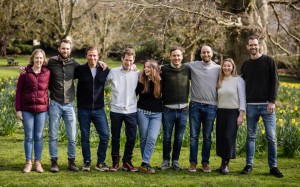 One high-profile fan of Bower is TV personality Davina McCall, who recommended the firm on her Make the Cut podcast, which provides product tips for consumers.
She said: "Bower Collective makes reuse and refill easy – sending your pouches back in a pre-paid envelope is so easy.
"They sell everything you can think of to live a more sustainable life and I think they are brilliant."
She added that it was "harder and harder to accept the amount of waste we generate each day".
Bower's products are delivered to customers' homes and then they 'join the refill revolution' by pouring the liquids into reusable dispensers before returning the packaging in a pre-paid envelope. The dispensers are then reused by Bower over and over again.
Customers are given a personal calculator which allows them to measure how much plastic they are saving by switching to a subscription model.
With just 9% of plastic waste successfully recycled in the UK, Bower Collective says it can save each customer around 100kg of plastic waste from landfill and incineration each year.
Growth over the past year at the firm, which is based on Upper Borough Walls, means in now employs 11 staff.
It has just closed a funding round worth more than £900,000 from private investors. From its first funding round, it invested in direct-to-consumer sales and boosted its presence in physical retail.
Co-founder Nick Torday, pictured, third from left, with the Bower team, explained the firm's 'laser focus' on the pathway to profitability and continued growth in a Lightning 50 podcast hosted by Bristol-based retail management software pioneer Brightpearl
He said sales continued to grow but the focus this year was on profitability.
He said that too many of the big consumer products firms were trying to bolster their eco-credentials by 'greenwashing' without cutting out single use plastic waste, which is a concern to 70% of consumers.
He said: "I am delighted that the Advertising Standards Authority has started clamping down on brands making unsupported claims.
"Big brands cannot just 'greenwash' their way out of the crisis we face with the over dependence on single use plastics."
Bower generates nearly 70% of its revenue from loyal subscribers and Nick explained the key to future growth had been developing its own tech stack to ensure that customer service is second to none.