A number of international science and technology-based companies are about to move to the Bristol & Bath Science Park – strengthening its role as the innovation hub for the region.
Details of the new arrivals will be released today to coincide with an event to mark its first anniversary which will also hear from writer and academic Will Hutton, who will speak to guests about 'open innovation'.
Mr Hutton will say that open innovation – idea-sharing and collaboration by pioneering businesses and academics – is key to identifying the industries of the future on which UK prosperity will depend.
Just one year after opening, the first phase of the Bristol & Bath Science Park has been let more than twice as fast as anticipated.
Park chief executive Bonnie Dean will announce details of the new arrivals at today's event, co-hosted by Science City Bristol.
As well as speaking on open innovation, Mr Hutton, chair of the Big Innovation Centre at the Work Foundation, will also chair a panel of industry leaders, experts and academics. Panel members are Dr C K Beale, independent expert on Future Technologies and former head of technology strategy at Rolls Royce; Lorelei Hunt, director, Science City Bristol; Dr Leo Poll, innovation and business development consultant; David Sproxton, chairman and co-founder of Bristol animators Aardman and Steve West, vice chancellor, University of the West of England.
They will discuss how best to encourage open innovation and collaboration between the region's leading academics and key sectors, which include creative and digital, wireless, advanced materials and clean technology companies, to build the industries of the future.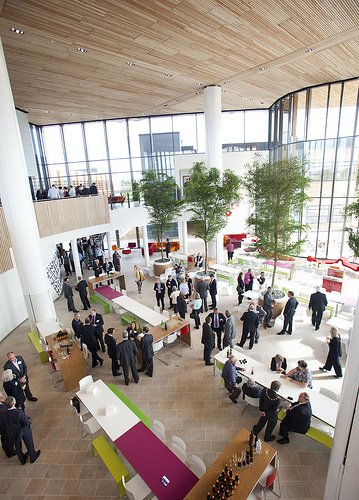 The event will also see the unveiling of the world's largest solar chandelier – a major new work illustrating the link between science and art, creativity and innovation. Created by the internationally acclaimed and Bristol-based artist Luke Jerram (Play Me I'm Yours – street pianos placed in public spaces around the world, including Bristol) whose three glass sculptures of viruses will be permanently on display at the Science Park, the 5m high chandelier will be suspended from the ceiling of the Science Park's three storey-high, glass-fronted Forum building, pictured. It is made up of 700 glass Crookes radiometers, individual glass bulbs containing metal paddles that spin when powered by sunlight, causing the chandelier to shimmer and flicker.
Ms Dean said: "The region's many strengths in academic research, creativity, world-class industry and innovative early stage companies provide an excellent environment in which to foster open innovation and collaboration. This is our inaugural debate and with our partner, Science City Bristol, we look forward to making this an annual event to support the development of an open innovation eco-system."