Bath's Actual Experience has won another order for its pioneering advanced analytics system that enables companies to improve operational efficiency as more staff work from home.
The firm introduced its Human Experience Management (HXM) product a year ago as many businesses were forced to adopt remote and home working.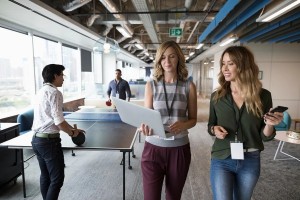 Along with its Business Impact Assessment (BIA) and Continuous Improvement (CI) offerings, it enables firms to improve their digital business, look after employees and reduce customer conversion times.
Actual Experience's first BIA project was with international legal firm Osborne Clarke, which has a major office in Bristol.
Osborne Clarke reported that the analysis was extremely useful in helping it understand employees' work practices and parts of the business that required support to improve their digital experience.
Actual Experience's HXM software also analysed the digital experience of 10,000 home and office-based employees of a major energy company for one month.
Now it has received an initial purchase order from one of its channel partners for its offering, which it said endorsed its HXM to its global blue-chip customer base.
Actual Experience said the deal followed a "constructive period of commercial engagement" with the channel partner and was a pre-order intended to fund initial BIA deployments in the sales funnel.
The month-long BIA project will help the business's leaders understand the impact their digital workplace has on their employees and their overall business in terms of wellbeing, inequality, carbon footprint and operational efficiency, among other things.
In a statement announcing the order to the London Stock Exchange, Actual Experience said: "Critically, with the enduring Covid-related changes to working practices – so-called hybrid working - the company's HXM offering provides actionable information for businesses to improve their digital business, look after employees, improve operational efficiency and help drive its ESG (environmental, social and corporate governance) agenda."
Actual Experience CEO Dave Page added: "As our partner's sales funnel develops, we expect further enterprise customer opportunities to approach the order stage for the initial Business Impact Assessment. We look forward to updating investors with news of customers moving to Continuous Improvement and potentially of more substantial pre-orders in the future."
Actual Experience was founded 11 years ago following a decade of cutting-edge research at Queen Mary University of London and later relocated to Bath. Earlier this year it raised £10m from shareholders to capitalise on new market opportunities created, in part, by the pandemic.
Having floated on the London Stock Exchange's AIM market in 2014, it is now the market leader in its sector with offices in London, New York and Seattle as well as Bath.