Six firms from in and around Bath have been named by the London Stock Exchange as some of the UK's fastest-growing and most dynamic small and medium-sized businesses.
The six, which operate in sectors ranging from green energy to publishing and financial services to pharmaceuticals, appear in the London Stock Exchange Group's 1000 Companies to Inspire Britain 2020 report.
To be featured in the report and its unique list of the UK's most innovative SMEs, businesses have to demonstrate strong revenue growth over the past three years and outperform their sector peers.
The six Bath area firms are specialist lender 1pm, publishing group Future and financial planning group Fidelius – all based in Bath – Midsomer Norton-based Bridges Electrical Engineering, along with specialty healthcare firm Alliance Pharma and green power group Good Energy – both headquartered in Chippenham.
Established in 2006, 1pm is listed on the London Stock Exchange Group's AIM market and provides a range of finance facilities to the SME sector spanning asset finance, commercial loans and vehicle finance through to invoice finance.
1pm, is playing a key role in helping small and medium-sized businesses survive the impact of the coronavirus pandemic by lending to them under the government-backed finance scheme.
It has expanded its range of lending products to include CBILS leases and loans for viable businesses
1pm CEO Ian Smith, pictured, said: "We are delighted to have been once again recognised in the London Stock Exchange Group's 1000 companies to inspire Britain. This achievement is reflective of our commitment to support British businesses with innovative solutions that inspire confidence and support their business goals.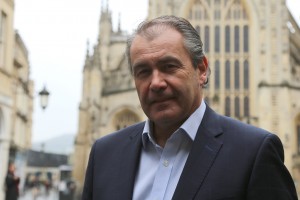 "The Covid-19 pandemic has greatly impacted businesses across the UK and we recognise the crucial role we play in getting the millions of small businesses back on their feet as quickly as possible. Our experienced teams continue to work hard to provide significant support during these difficult times."
Future, whose titles span technology, games and entertainment, music, home and gardens, sports, TV and film, real life and women's lifestyle following a spate of recent UK and US acquisitions, has been one of the few in the media industry to shrug off the impact of Covid-19 – a fact it puts down to its strong digital brands.
In September it said its organic unique visitor numbers in the UK and US, as measured by Google Analytics, were up 25% and 40% respectively compared to the same period last year.
As a result, it is creating more than 150 jobs and launching new products.
Financial planning group Fidelius, already one of Bath's fastest-growing businesses, struck a significant strategic partnership with major investment firm Pacific Asset Management (PAM) this summer will take its assets under advice to £1.8bn.
The link up with PAM involved it acquiring Fidelius's discretionary fund management (DFM) arm Parallel Investment Management.
In return PAM's financial planning firms Chartered Financial Management (UK) and Zen Wealth have become part of the Fidelius Group, which employs just over 100 staff in its Bath HQ and offices in Cheltenham and Chelmsford.
Bridges Electrical Engineers, a family company formed more than 70 years ago, offers comprehensive in-house design, manufacture and installation services for a broad range of commercial and industrial clients in the water treatment, quarrying, nuclear and waste recycling sectors.
Alliance Pharma, which was formed 23 years ago and floated on the London Stock Exchange in 2005, has developed a strong track record of acquiring the rights to underperforming drugs brands and realising their potential through investment.
It owns or licenses the rights to around 90 pharmaceutical and consumer healthcare products that sell in more than 100 countries worldwide via direct sales, joint ventures and a wide network of distributors.
Good Energy supplies homes and businesses with 100% renewable electricity from a community of more than 1,400 UK generators along with its own two wind farms and six solar farms.
London Stock Exchange Group CEO David Schwimmer said: "This report highlights the vital role of SMEs in driving economic growth, leading innovation and providing jobs across the UK. In this challenging year for businesses, it is more important than ever to shine a light on these stories of resilience and entrepreneurship.
"The success of UK SMEs is crucial as we rebuild a post Covid-19 economy, and London Stock Exchange Group is committed to helping growth companies achieve their potential."