The former headquarters of Bath book publisher Parragon has come onto the market – potentially easing pressure on expanding city centre office-based firms to relocate to Bristol.
The Grade II listed 10,000 sq ft building on Trim Street, known as Chartist House, is undergoing an extensive refurbishment and will be ready for occupation in the first quarter of next year.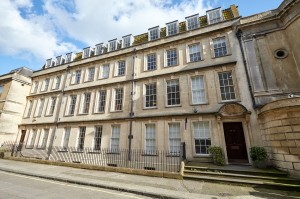 When complete it will offer five floors of open-plan, air-conditioned space available to let either as a whole or on a floor-by-floor basis.
Agents Carter Jonas' Bath office said demand for city centre office space continued to grow in Bath and firms, particularly those in the vital creative and tech sectors, were finding it increasingly difficult to find suitable premises for expansion.
However, more space was available to meet this demand, with 40,000 sq ft ready for businesses to move into straight away and an additional 20,000 sq ft soon to come onto the market – including Chartist House.
Office head Philip Marshall said: "Bath is not only an established business community, but it is emerging as a centre of innovation and technology – boasting one of the largest percentages of entrepreneurs per capita of the population.
"Yet despite its credentials, there has been a trend of businesses moving out of Bath to nearby cities such as Bristol in search of suitable office accommodation.
"Current office requirements in Bath are typically between 2,000 sq ft and 5,000 sq ft, so it is a competitive market. Traditionally, we have observed that unless businesses are prepared to look for property around 12 months in advance, they will be unlikely to find a space which is suited to them.
"However, we have approximately 40,000 sq ft of immediate availability as well as a further 20,000 sq ft in the pipeline – including Chartist House. It is an interesting moment for the market as demand is high, yet this is the single highest amount of availability we have had at any particular time."
Earlier this year fast-growing customer relationship marketing agency Armadillo CRM, which works with brands such as McDonald's, hotels.com and Disney, moved to Bristol after 25 years in Bath. It followed Mr B and Friends, which relocated Bristol last year after failing to find a suitable office in its home city to meet its expansion plans. It had been based in Bath for nine years.
Prime office space in Bath city centre has been in such short supply in recent years that the refurbished 20 Manvers Street, was fully occupied almost immediately it became available, attracting Bath creative firms such as gift designer and retailer Wild & Wolf and Edit, the three-way merger between marketing giant St Ives' subsidiaries Occam DM, Response One and Amaze One.
Parragon Books, which specialised in licensed children's titles, closed down earlier this year, with owner media giant DC Thomson blaming a "hugely" competitive market and lack of retail space. The firm had been loss making for several years.