Drinkers in bars in Hong Kong are to get the chance to sample sparkling cider made by a small Somerset drinks firm in a traditional – and rarely used – method.
Shepton Mallet-based Pilton Cider produces its cider through the artisan method of keeving, which means that no water or sugar is added. Instead, the apples are slowly fermented for six months before being stored in champagne-style bottles or kegs.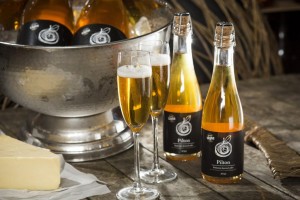 The firm, based in a former Victorian brewery, already exports to the US, Europe and Japan – in total overseas sales now account for 10% of Pilton Cider's turnover.
Now it has secured a contract with Wanderer Cider, an importer that specialises in showcasing traditionally-made cider from around the world, to ship 900 bottles of its sparkling cider to restaurants, bars and shops across Hong Kong.
The firm, which creates a range of whole-juice ciders from apples collected from orchards in and around the parish of Pilton, started exporting four years ago after noticing international demand for British-made cider.
It received support from the Food is GREAT campaign, a cross-departmental initiative between the Department for Environment, Food and Rural Affairs (Defra) and the Department for International Trade (DIT).
The campaign aims to showcase UK food and drink overseas and helps businesses to export their products.
Pilton Cider owner Martin Berkeley said: "British-made cider is some of the best in the world, and consumers are impatient to get their hands on it. With this new deal in Hong Kong, we gain an initial foothold in yet another potentially lucrative market for our business.
"As an alcohol brand, exporting can present challenges. There's differing taxes, duty and legislation to be aware of for every country you target, not to mention different tastes and cultures. That's why working with international trade advisers (ITA) is so worthwhile.
"Before looking to crack the Hong Kong market, we worked with our ITA to understand how perceptions of cider vary amongst different demographics. We learned it can be seen as a feminine drink because of the sweet taste – so now we're working with Wanderer Cider to help bust the gender stereotype."
He recommended any food and drink producer interested in exporting to make the most of the Food is GREAT campaign's support and resources available to producers of all sizes.
"Between the free exporting courses, opportunities to network with overseas buyers and market research available from DIT, there's no reason not to embrace the benefits exporting can bring your business," he added.
"If we can find success overseas, so can many other South West-based brands."
Pilton Cider joins a growing number of South West drink firms boosting their turnover by exporting.
Last year drinks worth £119.4m were sold overseas, with £5.6m of that going to consumers in Hong Kong and China. The UK as a whole exported £490,000 worth of cider to Hong Kong and China in 2018."
DIT South West head of trade Paul Shand said: "Pilton Cider is setting the example for all premium cider brands in applying local knowledge to crack overseas markets. South West food and drink has a global reputation for its high quality and unique flavours, making exporting the logical next step for producers looking to grow their business.
"We know businesses that export their products are more profitable, resilient and successful than those who don't. We have a dedicated team of advisers based right here in the South West to guide businesses of all sizes along their exporting journeys, as well as specialists in 109 overseas markets. I'd encourage anyone looking to boost their overseas sales to get in touch."