Automotive training expert Jonathan Buckley is in the driving seat to steer the rapidly expanding events division of learning and development agency RTS Group after joining as account director.
Jonathan, pictured, who has spent the majority of his career in automotive training and events, joins the business based at Notton, near Chippenham, from South Korean car maker Hyundai, where he managed its training academy.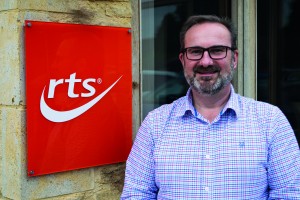 He said: "RTS Group has huge credibility and an excellent reputation for delivering training to the automotive retail network, and it will be my role to build on this and develop the events side of the business and the events team.
"As I have worked for a manufacturer, I can bring a fresh perspective on what clients want and how to really support them when we deliver exciting and innovative product launches for their retail networks."
Jonathan began his career in automotive events, moving into training when he joined the Meningitis Trust. He has worked for agencies and manufacturers and has had two spells as an RTS Group associate while a freelance and instructional designer.
RTS Group managing director Malcolm Miller said he was delighted to welcome Jonathan back to the company in such a senior role.
"We are expanding our events side of the business, including product launches – such as the successful C-HR launch we delivered for Toyota – and it will be Jonathan's task to build on this and to create a team around him to assist him," he said.
RTS Group was founded in 1989 and has been providing learning and development services to the automotive industry for nearly 30 years.
It has businesses across Europe, the Middle East, China and South Africa and works primarily in the automotive sector with clients such as Mercedes-Benz, Mazda and Nissan.
It devises, designs and delivers a wide range of learning solutions which improve the knowledge, skills and performance of frontline staff at automotive dealerships. Methods used range from one-to-one and classroom learning, through to eLearning, using smart phones, tablets and online tools.