Bath's Circle Hospital has been named as the South West's happiest workplace for its 'truly-inspiring' ethos and environment.
The Peasedown St John independent hospital beat a strong challenge from shortlisted workplaces across the region to claim the coveted award.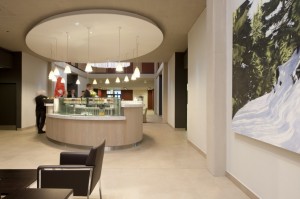 The competition, now in its third year, was launched by workplace and interior design consultancy Wylde IA to recognise firms that go the extra mile to ensure their staff are cheerful and fulfilled.
As well as an overall regional winner, awards were also presented to the happiest workplace in each city or district.
The Bath award went to Limpley Stoke-based content marketing agency M2 Bespoke for the second year running.
Speaking about Circle Hospital, the judges said they were instantly struck by what they saw as a unique workplace and hospital with a light airy and welcoming building, and with its own 'Circle Credo' – a set of shared beliefs/values, which guide everything they do.
Circle had a purpose to build a great company dedicated to its patients and, based on the principle of being 'agents of their patients', they aimed to exceed their expectations, earning their trust and loyalty, said the judges.
All staff have a voice and are valued whatever their role. Teamwork and cooperation is fundamental to their success, while the management style and culture is approachable and open.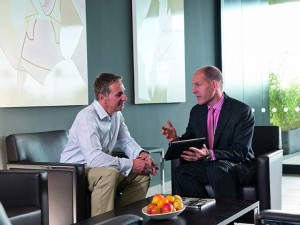 The health and wellbeing of staff is also a primary focus with health-related benefits including a pioneering mental health line, flu jabs and smoking cessation support while free activities such as yoga, pilates, tai chi, lunchtime walks and sports massage are also available for staff.
Maxine Bennett, director of Bristol-based Wylde IA, said: "This year the Happiest Workplace competition attracted a record number of entries from businesses and we have been overwhelmed by the quality of workplaces.
"We've had to make some tough decisions which hasn't been easy, but Circle Bath Hospital stood out for us – they've created a genuinely inspirational workplace."
Circle Bath Hospital general manager Paul McGaughey added: "We are delighted to have won this award. Our staff are a fantastic group of people who, through their dedication, skill and positive attitude, deliver a fantastic service to our patients.
"We have worked hard on embracing a wellbeing programme for everyone who works at Circle, offering fun and healthy activities.
"However, it is the staff here who have created the culture of openness, supportiveness and teamwork which have become so ingrained in the DNA of Circle.
"We are in no way complacent and still have lots to do to ensure staff are as happy as possible and to provide them with a great environment and all the tools to do their job to an outstanding level."
Judges praised M2 Bespoke for its relaxed, family feel and truly flexible working culture and healthy work-life balance. Among the factors that tipped the scales its way was the fact that staff can vary their start and finish times to allow for school pick-ups, rush hours and train times while parents are offered extra flexibility during school holidays.
All staff are also actively encouraged to work from home one day per week. There is a maximum working day of 7.5 hours with staff offered 'first dibs' on freelance rates for overtime. Its office is set in 13 acres of woods and gardens with dogs, guinea fowl and cats, natural light and large windows
There are also team 'Google-style' lunches every Friday and monthly cooked breakfasts.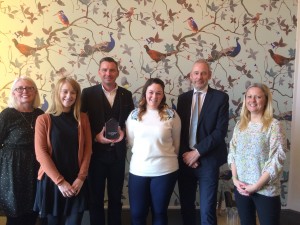 The awards ceremony was staged at Georgian manor house-turned-business centre Hartham Park, which was recently refurbished by Wylde IA to embrace more flexible ways of working.
The competition was supported by seating company Boss Design, carpet manufacturer Milliken, interior products company Vescom and iconic lamp manufacturer Anglepoise; all of which have donated prizes for the winner.
The Happiest Workplace competition is supported by Bath Business News and its sister titles.
Pictured, top and second from top: Circle Bath Hospital. Third from top: The Circle Bath Hospital team with their award. Bottom: The M2 Bespoke team with their award