More than £10,000 has been donated by Bath-headquartered national law firm Stone King to the Disasters Emergency Committee (DEC) appeal in aid of Ukraine.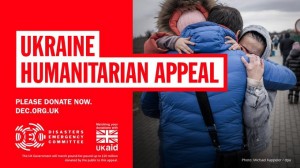 The donation from the firm's charitable arm, the Stone King Foundation, was made as millions of people are being displaced following the brutal Russian invasion of the country.
Stone King, which employs more than 230 people across its offices in Bath, Bristol, Birmingham, Cambridge, Leeds and London, is now calling other businesses in the city to do the same.
The DEC's humanitarian appeal for Ukraine brings together 15 UK aid agencies, including Oxfam, Save the Children UK, Age International, British Red Cross, Cafod, Christian Aid and Islamic Relief.
It has already received donations worth more than £100m. According to the United Nations up to 4m Ukrainians may be forced to leave the country while reports estimate 7m may lose their homes.
Stone King managing partner Steven Greenwood, pictured, said: "We feel that this is a really effective way of giving to large organisations that already have a presence on the ground and who can support those fleeing Ukraine.
"We have all been moved by the terrible events taking place and want to support this worthwhile appeal in an effective way as possible.
"We urge fellow businesses to do the same and note that our government has matched donations up to £25m."
To find out more about the DEC appeal or make a donation, click here