The farm agency team at national property consultancy Carter Jonas, which has offices in Bath and Wells, has completed its most successful year ever, handling more than 18,000 acres of land with a combined asking value of more than £185m.
The figures reflect the continued strength of the farmland market and the high regard in which land is held by existing farmers, entrepreneurs and investors, according to rural partner Kit Harding, pictured, who is based in the Bath office. Banks were continuing to lend to the agricultural sector, which in turn was fuelling the deal pipeline.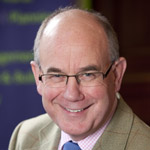 Prices for quality land could rise by 10% this year, according to the firm, as it continues to be viewed as a safe haven and because of inheritance tax advantages.
Mr Harding said: "As ever some parcels of land do fetch abnormally high prices which can distort the market but generally arable land is selling between £8,500 and £10,000 an acre, with pasture land £2,000 an acre behind."
The number of farms and farmland coming to the market increased in the first part of the year. Good land and well-equipped farms sold well with prices firming up in some fashionable areas, according to Mr Harding.
Among deals in the Bath area which completed during the year were Quaish Farm, near Shepton Mallet, and View Point Farm, near Bath. No financial details of these deals were released.
"We saw some exceptional transactions during the first half of the year with the larger sales being dealt with 'off market', showing the strength of land as a safe haven and hedge against economic ills," said Mr Harding.
"Fortunately the banks are also continuing to lend freely to the agricultural sector and the availability of finance is providing the firepower to fund large commercial purchases."
During the first half of 2013 there were a number of strong sales of bare land and equipped farms, with farmers at the forefront, particularly those with interests in neighbouring land.
Mr Harding said farmers saw the value of extending their existing holdings, particularly where a senior family member retired and was followed by additional family members looking to get involved in the farming enterprise.
Carter Jonas's Farmhouse Index Winter 2013 revealed growing confidence in the market, which is expected to strengthen this year with capital growth between 7% and 10%.
The firm said it was confident that as demand continues to outstrip supply, best-in-class farmland will rise in value and be keenly sought by farming and non-farming investors who value its safe haven status and its inheritance tax advantages.
However, Mr Harding added: "Investors will no doubt continue to take advantage of the healthy price growth of the farmland market to take their profit and plough their cash into other opportunities, which may offer chances of better capital growth in the next five to 10 years."