Developers are seeking to demolish a former industrial building on Bath's Lower Bristol Road now used as a charity warehouse to build a £10m mixed-use scheme with commercial space and student housing.
Bath-based property firm Longacre has teamed up with Welsh developer and investor Watkin Property Ventures to submit the plans to Bath & North East Somerset Council for the former Hollis building, now known as the Jubilee Centre.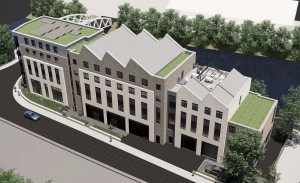 Their scheme would include a new building up to five stories high with ground-floor commercial space of around 6,500 sq ft with 127-bed student accommodation on the upper floors.
A planning application was submitted for a 136-bed student scheme with no commercial space three years ago by another developer but later withdrawn. A similar scheme was rejected in 2018.
Under these proposal, the charity currently using the building, Mercy In Action, would have been forced to find an alternative site.
Longacre said its scheme would accommodate the charity, which has used the warehouse since 2015, on the ground floor along with other users.
John Todd, founder of Mercy In Action – which works to alleviate the suffering of children living in poverty in the Philippines – said the purpose-built warehouse and offices in the new scheme would provide security for the next 20 years for the charity and three other projects that benefiting families in the Bath area that use the Jubilee Centre – food club Action Pantry, Clothesline, which provides free clothing for the children of families in need, and Petra House, which provides housing for homeless young women who are pregnant or have a baby.
"The new facility will continue to support the employment and day-to-day running of Mercy in Action's charity and six charity shops in and around Bath," he said.
Longacre founder and director Mark Tyrrell added: "This scheme will secure the future of this important local charity.
"This is a key brownfield site on a main route into the city and this development will bring considerable investment to the area to regenerate an often overlooked part of the city."
Longacre said the student accommodation in the scheme was not aimed at increasing the number of students in Bath but could help ease the city's long-standing problem of having students occupying houses suitable for families – a factor seen as contributing to its housing crisis.
Longacre has completed a number of refurbishment and development projects around Bath which have been acknowledged as sensitive to their settings, including One Bilbury Lane, Great Pulteney Street's Fitzroy House and Milsom Apartments on Milsom Street.
The firm was set up by Mark Tyrrell, a former director of student accommodation group Unite and property developer Deeley Freed Estates – both based in Bristol – and Julian Emery, who runs Bath-based family construction firm Emerys, who between them have more than 50 years' experience in the sector.