Inquiries for defence manufacturing group Avon Protection's products have risen since the war in Ukraine started last month, it said this week, but admitted that they will not prevent its profits coming under pressure due to ongoing supply chain issues.
Melksham-based Avon, which specialises in protective gear, masks and breathing equipment, pictured, for the military and first-responder markets, said its order intake in the six months to 31 March was lower than the equivalent period last year.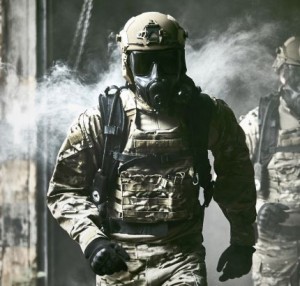 The group, which changed its name last year from Avon Rubber, is looking to bounce back from a tough period during which its shares lost around 70% of their value as it struggled to overcome damaging delays in military orders from the US.
Its shares came under further pressure this week, slumping by more than 20% on Wednesday when it released its latest trading update. However, they recovered by around 10% yesterday.
In the update it admitted trading in the first half reflected a continuation of some of its challenges, "but with performance accelerating through the second quarter".
Revenue for the period was in line with expectations and ahead overall by around 4%, with organic year-on-year performance broadly flat.
But profitability had been impacted, in broadly even proportions, by a weaker than expected sales mix in the first half and additional manufacturing costs, notably in its helmets business, due to supply chain and process inefficiencies.
Avon said it had made good progress in implementing a $15m (£11.5m) cost-cutting programme announced last December, which includes closing one of its US offices and a change in management structure which streamlines the organisation into one focussed business.
The group reinforced its position as a leading provider of head protection to the US military by winning a contract for its second-generation Advanced Combat Helmet in February.
Looking ahead, the group said: "Recent events in Ukraine have highlighted the criticality of our products and capabilities, and we have seen a notable increase in customer inquiry activity.
"We have a number of active discussions ongoing with customers regarding potential incremental orders across both respiratory and helmet products."
Profitability in the second half of the year was expected to improve against the first but would not offset earlier weaknesses, meaning full-year underlying earnings would be lower than previously expected.
Avon Protection chief executive officer Paul McDonald said: "Our purpose is to protect people and save lives.
"As a global leader in military-grade respiratory and head protection, we are seeing an increased demand for our products for both the short and longer term.
"We are working proactively with our key customers to confirm their requirements and maximise our available capacity in the short term.
"Longer term, this will create further opportunities and will likely result in mid-term capacity expansion to meet expected demand."
The group, which is winding down and closing its body armour business after it failed tests for the US military, employs more than 1,000 people in seven locations.
It is due to release its results for the half year on 24 May.