Bath-based bathroom furniture designer and supplier Roper Rhodes has been sold to a Swedish firm in a deal worth up to £90m.
Family-owned Roper Rhodes was launched 42 years ago by Brian Roper and has since grown to become a major player in the UK market.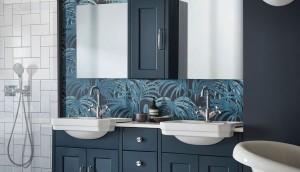 The acquisition by Svedbergs, which has been listed on the Stockholm stock exchange since 1962, brings the Swedish bathroom equipment firm into the UK market for the first time.
It said the investment would allow Roper Rhodes to develop its business further with the existing management team remaining in place to ensure the continued commitment to its staff and the local community.
Roper Rhodes, which also has a 200,000 sq ft warehouse at Royal Portbury Dock on the outskirts of Bristol, contributes 3% of its pre-tax profits every year to local charities and supports numerous local community organisations.
Having been approached numerous times over many years to sell by building products and bathroom firms as well as private equity firms, the Roper family appointed Bristol-headquartered law firm TLT to identify a suitable buyer and prepare it for sale to maximise shareholder value and ensure a smooth transaction.
Svedbergs, which designs and manufactures bathroom furniture and products, operates exclusively in the Nordic region.
It said it had targeted Roper Rhodes, whose brands include Roper Rhodes, Tavistock and R2, because the company fitted with its strategic objective of acquiring market-leading brands in the bathroom sector in key European markets.
Brian Roper's sons and majority shareholders Mark and Paul Roper have left the business while managing director Leigh Leather and directors Will Steele, Simon Taylor and Chris Vallance remain on its operational board.
Svedbergs Group president and CEO Per-Arne Andersson said: "Roper Rhodes is a perfect match with Svedbergs Group's strategy and ambition of becoming the leading bathroom supplier in selected markets in Europe.
"Roper Rhodes is well-managed and financially strong with a strong market position and more than 40 years in the industry in the UK.
"The company is very similar to the other branded companies of the Svedbergs Group with strong brands and innovative products in different sales channels and a diverse customer base.
"Together with the experienced Roper Rhodes management team we are looking forward to grow in the British market, which provides clear potential going forward due to its size and underlying demand for new homes and refurbishment."
Paul Roper added: "We're really grateful to TLT for supporting us with this transaction and for working successfully alongside our financial advisers at Deloitte on the process to realise value for our business.
"The team were incredibly professional and always responsive and we were grateful for their experienced and clear, calm advice throughout a long process.
"This is an exciting step on our journey to grow and develop the business internationally and we believe we've found a great partner in Sverdbergs; a company where innovation, vision and craftmanship has taken the company from its beginnings in 1920 to market leader in the Nordic region."
The sale price is made up of a fixed consideration of £76m with a maximum earn-out of £14m.
Roper Rhodes' national distribution centre at Portbury also houses a 7,000 sq ft UK customer training centre and suite of showrooms where its range of products are displayed.