The first speakers have been announced for this year's TEDxBath as its organisers vow to go ahead with the event in October.
International bestselling writer and renegade economist Kate Raworth, creative strategist Dan Burgess and Royal United Hospital director of intensive care Dr Andy Georgiou are to speak at what will be the third annual TEDxBath.
When the event was announced in January, organisers said that following the success of the previous two events, TEDxBath 2020 would be bigger, more inclusive and more diverse with a truly international agenda in the line-up.
They are sticking to that pledge despite the coronavirus pandemic. The event continues to take place at The Forum on October 10.
TEDxBath lead curator Geoff Rich said: "We have been astonished at the quality of speaker applications this year. The curation team is working hard to design our best and biggest event yet and we look forward to announcing further confirmed speakers soon."
Kate Raworth, pictured right, is a renegade economist focused on making economics fit for the 21st century. Her book Doughnut Economics: seven ways to think like a 21st century economist is an international bestseller that has been translated into 18 languages. She is co-founder of Doughnut Economics Action Lab, which works with change-makers worldwide to turn Doughnut Economics from a radical idea into transformative action.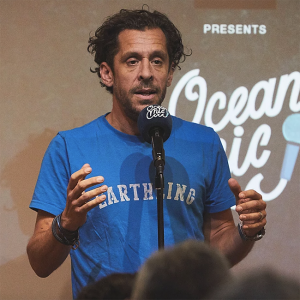 Since publication of her book in 2017, Kate has been approached with questions on how the Doughnut Economy can be downscaled to a local level such as towns, neighbourhoods, cities, nations.
In April this year Amsterdam announced it will be working with Kate to apply Doughnut thinking to help the city's recovery post Covid-19.
At TEDxBath she will be helping the audience to understand what it could mean for a city to be a home to thriving people, in a thriving place, while respecting the wellbeing of all people and the health of the whole planet. What kind of policies and initiatives will take 21st century cities in this direction? How do the cities very institutions need to be redesigned to make this possible?
Dan Burgess, pictured above, will unpack the concept of the Earth as a spaceship and living system; inspiring and encouraging each of us to be more than passengers on this enormous spaceship by becoming its crew. Dan's creative thinking and engaging storytelling has wowed many audiences before and TEDxBath organiser said they were excited to bring his thought-provoking voice to a stage in his hometown.
Dr Andy Georgiou, pictured right, holds first-class honours in anatomical science and has published 19 peer review articles and six books or book chapters. He has been the director of intensive care in Bath since 2013 and was the lead consultant up to, and during, the coronavirus pandemic.
He will draw back the curtain on the NHS's cross trust approach to rapid medicine development, and share his fascinating experiences and insights from ICU with TEDxBath
The TEDxBath event coincides with the global launch of COUNTDOWN – an initiative from TED founder – and former Bath-based entrepreneur – Chris Anderson.
The launch is set to take place in Norway and the TEDxBath audience will be connected with COUNTDOWN at various times throughout the day, making this a truly Interconnected event.
TEDxBath is an entirely independent and not-for-profit venture and is run by a team of volunteers representing different aspects of the city.
Last year's TEDxBath took the theme of 'Echoes of the City' with 10 inspirational speakers.
For more information, visit www.TEDxbath.com
Photo of Kate Raworth by Roman Krzaric