Bath brand agency The House has helped city-based charitable foundation St John's Hospital produce its first annual impact report in its 842-year history.
The House has helped articulate the charity's present impact and future ambitions and give local people a clear picture of its roots and priorities across its core areas of health and wellbeing, housing, isolation, poverty, relationships and employment and skills.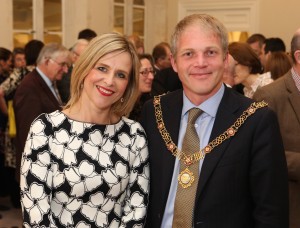 The report celebrates the achievements of 2015 and serves as a call to action for local partners and supporters to help St John's Hospital deliver an even greater impact this year, when it aims to disburse a record £1m in grants and lend £1m in social investment.
The House business head Graham Massey said: "St John's Hospital has touched thousands of lives. This first-ever impact report sets out the full scope and breadth of its activities and ambitions.
Pictured: St John's Hospital CEO Sue Porto with Mayor of Bath Will Sandry at the report's launch
"Every charity can benefit enormously from defining and communicating their purpose and impact in this way: it attracts new partners and supporters, re-energises staff and volunteers and helps charities reach those who need their help."
The report was launched in February at an event at Bath's new Gainsborough Hotel attended by business and civic leaders, charities and philanthropists.
St John's Hospital chief executive Sue Porto said: "We've been overwhelmed by the positive response to our first ever annual impact report. We believe that St John's Hospital is in a strong position to act as a connector, bringing different groups together to tackle social challenges in Bath and North East Somerset. The House has helped us to craft a compelling invitation to the wider community to share in our work."
Highlights of the report include the launch of The Bubble, a new community facility that provides activities, social gatherings and services for people aged over 55 living in Bath, aimed at reducing social isolation.
Last year St John's Hospital also helped 98 almshouse residents and made grants to 527 individuals and 59 organisations, making a positive impact on over 4,500 people. This year it aims to help 1,200 people through individual grants, disburse £1m in overall grants and lend £1m to charities and social enterprises through social investment.
Sue Porto added: "Investing in social enterprise is a great way to encourage charities and community organisations to create a meaningful and sustainable impact. It reflects our emerging focus on helping people to help themselves."
The impact report will serve as a precursor to a wider rebrand that will further define and communicate St John's Hospital's purpose, values and culture.
The House has previously helped Wiltshire Community Foundation and Bath Rugby Foundation attract more support by redefining their brand, and also created the visual identity for Bath-based initiative Action Against Child Poverty.
The report's design concept plays on the rays of light surrounding St John the Baptist in the charity's logo. Colourful rays are used as a motif throughout the report to express the energy and enlightening impact the charity has on those it serves. Key statistics are highlighted via a classic typeface given a fresh, bold and contemporary spin, reflecting the charity's blend of deep traditions and future-focused attitude.
These are complemented with impactful photographic spreads where beneficiaries of St John's Hospital's tell their stories, thus giving a different perspective on the charity's work and impact. The past, present and future is reflected on each page.