Each week Bath Business News gives a prominent member of the city's business community the last word on its weekly e-bulletin. This week Charles Cronin, criminal defence solicitor at Mowbray Woodwards, answers our 10 questions.
What was the LAST: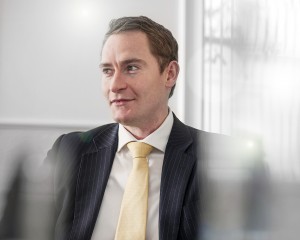 Film you watched? Transformers: The Last Knight. Sadly a disappointment following on from the previous film. Didn't quite live up to my childhood expectations!
Book you read? Out on the Land by Ray Mears. A wonderful guide to life in the Boreal forest. I just purchased a signed copy of Munich by Robert Harris – only £5, which I thought was a bargain. I enjoyed reading Fatherland so hopefully this will be good too.
Music you bought or downloaded? I think it would have been a blast through YouTube, probably The KLF, The White Room and a host of other dance tracks from younger days… always a pleasant change from Radio 4!
Concert or play you went to? Texas at the Symphony Hall in Birmingham. Sharleen Spiteri has an exceptional voice. First time I have seen them, well worth it.
Sporting event you attended? Mmmmm, does Bath Boules count?
Holiday you went on? A trip to Edinburgh then drove north to the Isle of Skye. The Highlands and Hebrides are fantastic. Just recently a trip to see a good friend in Dubai, such an exciting city. The Burj Khalifa is a truly awesome sight with the Dubai fountains at its base. Kite Beach was also rather easy on the eye…
Restaurant you ate in? I enjoyed a fantastic brunch put on by Zero Gravity in Dubai. Excellent celebratory food in honour of Halloween. Great food in seemingly limitless quantities. Great company with fantastic weather made it all the better!
Thing that annoyed you? The copious amounts of chewing gum on Bath's streets. It's horrible stuff – put it in the bin!
Thing that made you laugh out loud? Laughing in disbelief as I realised my mobile phone had fallen out of my pocket on to the road and then run over within a matter of seconds…
Piece of good advice you were given? Don't let the grass grow under your feet.
Charles Cronin is a criminal defence solicitor at Bath law firm Mowbray Woodwards. He has expertise in defending clients for a variety of offences and is a familiar face at Bath Magistrates Court. Specialising in motoring law, Charles assists individuals and businesses across the region and nationwide with all driving allegations. He regularly provides expert legal comment for the BBC.