Each week Bath Business News gives a prominent member of the city's business community the last word. This week Kate Pullinger, professor of creative writing and digital media at Bath Spa University, answers our 10 questions.
What was the LAST: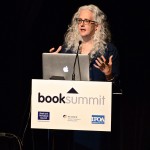 Film you watched? Ghostbusters Afterlife. The director of the original Ghostbusters, Ivan Reitman, died recently – I keep half an eye on all famous Canadians for reasons I'm not completely sure of – apart from being Canadian myself – and his son Jason Reitman directed this most recent addition to the franchise. It's a very enjoyable family movie with three great performances from the kids at its heart.
Book you read? Drive Your Plow Over the Bones of the Dead by the Nobel Prize winner Olga Tokarczuk. One of the research projects I'm involved with, the UKRI-funded MyWorld, is looking at engaging with the early stage tech development of a theatre production of this novel. It's a kind of thriller set in a tiny hamlet on the edge of a vast forest in Poland. Mysterious and eccentric – hugely engaging.
Music you bought or downloaded? Sometimes I Might Be Introvert by Little Simz. Marvellous.
Concert or play you went to? Kontakthof by the Pina Bausch company. Pina Bausch was a towering figure from the world of dance and theatre whose work I've been following for many years. She died in 2009 but her company, based in Wuppertal, Germany, continues. I've seen two previous versions of this particular show. I hadn't seen any dance since before the pandemic, so it was glorious to go to Sadler's Wells and spend several hours in the world of Bausch, one of my all-time artist heroes.
Sporting event you attended? Me? No.
Holiday you went on? We are planning several holidays this year – hurrah! However, our most recent, a long weekend in Glasgow, was scuppered by Storm Eunice.
Restaurant you ate in? Mostly recently in Bath I ate at one of my favourites, Corkage, with a friend I hadn't seen since before the pandemic – so that was both delicious and reviving.
Thing that annoyed you? Putin.
Thing that made you laugh out loud? Toast of Tinseltown – Clem Fandango.
Piece of good advice you were given? Self-deprecation is not a useful tool for women in the workplace.
Kate Pullinger is Professor of Creative Writing and Digital Media at Bath Spa University where directs the Centre for Cultural and Creative Industries and leads the University's innovation hub, The Studio in Bath. Her novel The Mistress of Nothing won Canada's Governor General's Award in 2009; her most recent digital work is Breathe, a ghost story for smartphones.