Each week Bath Business News gives a prominent member of the area's business community the last word on its weekly e-bulletin. This week Vicki Cheadle, owner of Good Crowd Media, marketing & PR consultant, answers our 10 questions.
What was the LAST: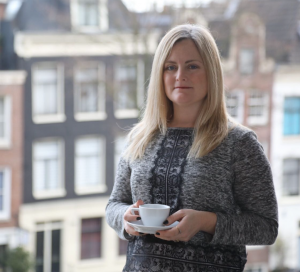 Film you watched? I recently watch Twinsters on Netflix. It's a documentary about two adopted twin girls from South Korea who were raised on different continents. Samantha is an American actor living in Los Angeles, Anaïs is a French fashion design student living in London. They have no knowledge of each other until Anaïs' friends viewed a video on YouTube featuring Samantha. They were immediately blown away by the identical appearance of Samantha and Anaïs and so their journey begins centred around social media. I really enjoyed it.
Book you read? One of the benefits of working as a PR consultant for Bath Festivals is that there are lots and lots of books around the office to borrow. I recently read Days Without End by Sebastian Barry, recent winner of the Costa Book of the Year Award. It tells the tale of a 17-year-old émigré, Thomas McNulty, who has crossed the Atlantic to rebuild his life in mid-century America after escaping the Great Famine in Ireland. His life takes many twists and turns, eventually resulting in him volunteering for the US Army and joining the Oregon trail to California, seeing many horrors along the way. His detached and ghostly accounts of war run in parallel with his journey of personal discovery about his own sexuality. It's a moving 'coming of age' story about friendship, love and the tragedies of war. Very compelling and beautifully written. I've just started to read another Costa book winner (2016) Dadland by Keggie Carew, a biography about her father, Tom Carew, the SOE (Special Operations Executive) officer who parachuted into enemy-occupied France and Burma at the age of 24, winning the DSO and the Croix de Guerre, through to his battle with dementia. Both authors will be appearing at The Bath Festival in May. Tickets go on sale next Wednesday!
Music you bought or downloaded? The Top 10 Harry Potter soundtracks from YouTube. It was Harry Potter Book Night on February 2 and I attempted to recreated the Great Hall in my dining room with floating candles and letters, golden snitches made out of Ferrero Rocher chocolates and other bits of paraphernalia. The music definitely helped set the scene! On June 26 it will be the 20th anniversary of Harry Potter and the Sorcerer's Stone which makes me feel really old. I'm really looking forward to hearing Madeleine Peyroux, Naturally 7 and the Philharmonia Orchestra at The Bath Festival in May….
Concert or play you went to? I think it was probably The Heavy at Bath Pavilion. My husband went to school with the singer, Kelvin Swaby, so we always like to see them when they're in town. Lots of familiar faces in the audience too, it was like stepping back in time to 1995 but with someone we knew on stage! Bath-based charity Mentoring Plus got a mention on the night. They do such amazing work, supporting young and vulnerable people by connecting them with their community and Kelvin is a patron, mentoring young people interested in music.
Sporting event you attended? A football match in Utrecht in the Netherlands. FC Utrecht played against SC Heerenveen and won, 1-0. It was a physical match with six yellow cards and two reds so lots of action. It's amazing how swear words transcend all language barriers.
Holiday you went on? My husband and I recently came back from a long weekend in Amsterdam. I haven't been for many years and I fell in love with the beautiful architecture all over again. We enjoyed hanging out in the cafes and restaurants, shops and the incredible museums. We saw Renaissance masterpieces, Van Gough's artwork throughout his life and Banksy classics all in the same day. The Dutch people have such a friendly, laid back attitude, it's one of those places you can imagine living as long as you can dodge the bikes and trams.
Restaurant you ate in? The Hare & Hounds in Bath. The views are stunning, it looks lovely and twinkly in the evening usually with a roaring fire on the go and the food is always good.
Thing that annoyed you? Technology meltdowns. No wi-fi at home for three hours last week meant no emails on my Mac, no TV, no music through our Sonos speakers, you get the picture. Our lives are so dependent on wi-fi and technology in general it scares me. Don't ask me how our Nest Learning Thermostat works as I have no idea.
Thing that made you laugh out loud? Ricky Gervais during this warm-up gig Work in Progress in the Theatre Royal. He was hilarious at times, controversial at others (sniggers behind hands) definitely pushing the boundaries of good taste and thought provoking too – he's a huge advocate of animal welfare. Other than that, my friends wearing their 80s garb at the Purple Rain – a celebration of Prince evening in Komedia had me in stitches too.
Piece of good advice you were given? My dad and I were recently having a discussion about wine and he said that the best advice that was ever given to him (by a wine buff friend) was to "never drink a strange looking bottle of wine with more than three colours on the label." Sound advice.
Vicki Cheadle is the owner of Bath-based Good Crowd Media, providing businesses with marketing expertise across the board. Her skills lie in analysing markets, looking at competitor activity then providing a marketing plan which covers digital marketing, direct mail campaigns, PR, advertising, events & sponsorship opportunities.