Each week Bath Business News gives a prominent member of the city's business community the last word on its weekly e-bulletin. This week Yvonne Bignall, award-winning personal development facilitator and life motivator, answers our 10 questions.
What was the LAST: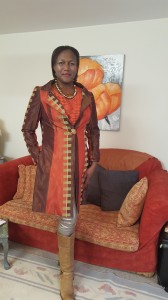 Film You Watched: Unbroken – the inspirational story of Louis Zamperini, an Olympian and US prisoner of war survivor. I am not a lover of war films but this simply took my breath away (and made me cry…a lot). A reminder of what we are truly capable of as human beings.
Book You Read: The Chimp Paradox – a book I have now read twice and found more gems in it the second time around. As a coach, this book has provided me with great insights into human behaviour. It helps manage behaviours that fail to serve us. I love my chimp!
Music you bought/downloaded: Shape of You by Ed Sheeran. I love this tune – so catchy, perfect for my 'dance around the front room' moments.
Concert or Play you went to see: Dancing In The Streets – a celebration of all things Motown. Reminiscing and simply enjoying some of the best music ever produced (in my opinion).
Sporting Event You Attended: The London Marathon 2015 – and I took part to celebrate my 50th birthday. Magical day – with amazing support from the crowd and an achievement I won't forget in a hurry.
Holiday You Went On: Part holiday, part business – a trip to Las Vegas to join 15,000 other health and fitness enthusiasts. Not only did I learn about a fantastic nutrition programme, I saw the thrilling Tony Robbins light up the stage, had Montell Jordan and Flo Rider (Flo Rida?) entertain us and pretty much danced the days away floating on a bed of positive energy.
Restaurant You Ate In: Opa in Bath. One of my lovely clients took me and, I have to say, the food was amazing. It has a great ambience day or night.
Things That Annoy You: The big one would be inequality of any kind. We are all human beings and we all deserve respect. The lesser one, but an annoyance just the same, feet on public transport seats. I mean really, is that the place for shoes that have been trampling along the roads? Just saying…
Things That Make You Laugh Out Loud: So many things! A good joke, Frasier, Fawlty Towers (still) and my all-time favourite Only Fools and Horses – timeless comedy.
Piece of Good Advice You Were Given: Live outside of your comfort zone – it's where the magic happens. So true…
Yvonne Bignall is an award-winning personal development facilitator and life motivator. She set up Yvonne B Ltd eight years ago to support women in business and help them realise their potential. The Chartered Management Institute-qualified coach and mentor is also a health advocate and qualified personal trainer – helping women to live healthier and more authentic lives. In 2013, the single mum went straight to the top and had talks in Downing Street with some of the Prime Minister's aides to look at ways of increasing government support for single parents in business. More recently, Yvonne became a best-selling author on Amazon for her book Suck it Up or Change, which is about creating a better life. It is based on her 7F Principles: be fit, be fearless, create freedom, pay it forward, enjoy friends and family, have fun, and have faith. Yvonne has now set up Women Unmasked, where women meet monthly to inspire and encourage each other. They share their stories, offer practical support, gain insight from experts in various fields and hear inspirational stories.