The leading lights of Bath's tech scene go head-to-head with rivals from Bristol and across the West of England next week at the region's top sector-specific awards.
The SPARKies – which are staged by TechSPARK, the information hub for all things tech in Bristol, Bath and the West of England – recognise the businesses and individuals making Bath, Bristol and surroundings a beacon for tech talent and creative sector innovation.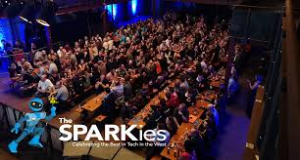 Now in their seventh year, the SPARKies have become established as the leading awards for the sector.
The awards ceremony – described by TechSpark as "a great night for digital debauchery, comedy and community" – alternates between Bristol and Bath. Next Thursday it will be the turn of Bath again with the Assembly Rooms providing a traditional alternative to the past two venues – Bath's Komedia and Bristol's Motion nightclub.
Awards in 16 closely contested categories will be handed out on the night.
Among the businesses and individuals flying the flag for Bath on the category shortlists will be games developer Epics Digital Collectibles Inc (Best Startup) while IT bootcamp Mayden Academy and digital tech and web design agency Storm Consultancy are both competing for the 'Totally Killing It' Award,
Storm CEO and co-founder David Kelly is in the running for the Founder/Entrepreneur of the Year Award while digital and software innovators Rocketmakers is competing for possible four-trophy haul of the Most Innovative Use of Tech, Best Use of VR & AR, The Best Digital Design Award and Best Place to Work in Tech – a category in which Storm is also competing.
Rocketmakers CEO Richard Godfrey is shortlisted for the Lifetime Achievement Award.
Bath-based world leader in health data migration DesAcc is challenging for the The 'Data Data Data' Award.
Mayden Academy's full stack developer and coding trainer Charlie Coggans is up for the Best Mentor Award while Lucia Velasco, founder of the Calima consultancy for process strategy and optimisation is hopeful of landing the FutureSPARK Award.
Finally, Bath-based EZ Education, which aims to build confidence and raise standards in maths through personalised content, is hoping for top marks in the 'Good' Award category that champions firms using tech to benefit society.