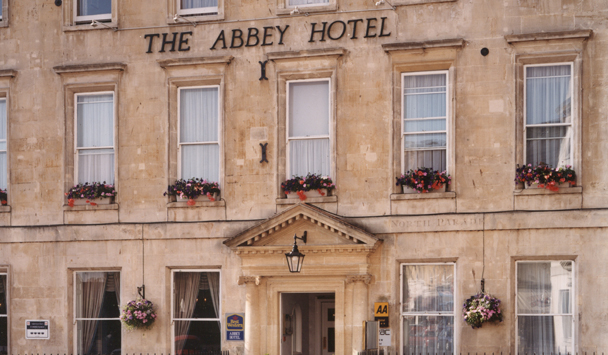 One of Bath's oldest hotels, The Abbey, is to be transformed into a mid-market boutique hotel under a three-year modernisation programme by its new owners. Husband-and-wife team Ian and Christa Taylor, both experienced hoteliers, bought the 60-bedroom, 3-star hotel in North Parade from small, independent hotel group Compass, which successfully ran it for 23 years. Funding to support the acquisition came from Barclays Corporate.
The hotel, built in 1742, will continue to be marketed under the Best Western brand. It averages a year-round occupancy rate of 80%, predominantly from the leisure market.
The modernisation will be phased over three years, starting with the terrace area, and with work on the restaurant and the ground floor later this year. All bedrooms will be refurbished during 2013 and 2014.
Mr Taylor said: "I believe there is a gap in the market for an affordable, mid-market boutique hotel offering in Bath, which The Abbey has the potential to fulfil. My vision for the hotel also includes working harder to position it as a part of the Bath community. Modernising the restaurant and terraced bar area will be the first step in the process of trying to establish ourselves as a key hub for those who live and work in the city.
"I will also be actively looking to partner with like-minded businesses that share my passion and vision for strengthening Bath's tourist offer.
"I see an enormous opportunity for the city's businesses – hotels, restaurants, bars and shops – to work together to continue to market this city as an exciting, ever evolving 'must see' destination."
Barclays Corporate relationship director Matthew Smart added: "Our clients' commitment to investing in The Abbey is testimony to the confidence they have in both the industry, and in Bath's ability to continue to attract visitors.
"Ian and Christa are proven hoteliers with an excellent track record and we are proud to support them with their latest venture. This support also demonstrates our ongoing appetite to be involved in the hospitality and leisure industry."
Ian began his career at the major Intercontinental hotel chain where he worked for almost two decades before buying Cotswold House and The Noel Arms in Chipping Campden, Gloucestershire, both of recently taken over by Bespoke Hotels.
With Christa he successfully transformed Cotswold House into a luxury boutique offering, winning the title Best Independent Hotel of the Year 2005 and two marketing categories in the Catey Awards which celebrate the best of the hospitality industry.