Legal experts from regional law firm Thrings' Bath office have advised on the sale of two industrial estates in Dorset.
Legal director Charlie Wakefield and solicitor Alice Paye, both in Thrings' Bath-based commercial property team, provided legal support to long-standing clients Michael Fowler and his family.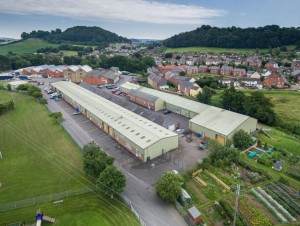 They sold the fully occupied North Mills Trading Estate and Dreadnought Trading Estate in Bridport to Dorset real estate management company Busby & Busby and Devon-based Crowndale Estates (Tavistock) respectively.
The two modern industrial estates form part of Bridport's rope-making past. The historic 25-unit North Mills Trading Estate, pictured, provides just over 42,000 sq ft of accommodation, including a listed building which is the longest remaining rope walk structure in the market town, while the 3.56-acre Dreadnought Trading Estate in the centre of Bridport has 30 units totalling just over 50,500 sq ft.
Following substantial investment and modernisation, the estates generate a combined annual rental income of £480,000 from their 55 tenants, who will all remain in occupation under the new ownership.
The sale attracted considerable interest and the collective asking price was significantly exceeded.
Michael Fowler said: "After many enjoyable decades developing and running these enterprises with my family, it was time to pass them on. The team at Thrings, as always, oversaw the complex legal process expertly and diligently, allowing us to progress the deals at a good pace."
Charlie Wakefield added: "Well located, maintained and popular with local and regional tenants, it's no surprise the estates generated substantial interest. We have enjoyed working with the enterprising Fowler family for many decades and are delighted to have assisted them with their latest commercial transactions."
Richard Howell, principal in global real estate group Avison Young's Bristol office, advised on marketing the estates.
He said: "As the sale of the Fowler trading estates shows, we are seeing a rise in demand for well-managed multi-let industrial assets in the South West. With businesses continuing to stockpile in the face of Brexit, the Fowlers sold their prime warehousing space at just the right time."
Thrings also has offices in Bristol, Swindon, London and Romsey, Hants.