The corporate team from South West law firm Thrings has advised on the sale of a business designing and manufacturing products at the cutting edge of acoustic material technology.
Acoustic Polymers, which has been acquired by cork and rubber materials manufacturer Tiflex, specialises in high-performance polymeric-based materials used in subsea environmental protection for blue-chip clients.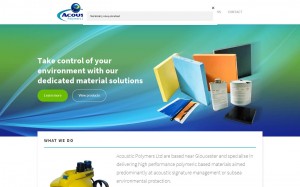 Thrings, which has an office Bath, acted as the lead advisory on the legal aspects of the transaction, with the firm's corporate lawyers helping coordinating the purchase of Gloucestershire-based Acoustic Polymers' entire issued share capital by Tiflex.
Corporate finance and tax advice was provided by regional accountancy firm Bishop Fleming, which also has an office in Bristol.
Tiflex, based in Cornwall, makes high-performance products and systems based on advanced materials technology and engineering.
It is part of the Surrey-headquartered James Walker Group, which employs around 2,000 people and has a manufacturing and sales presence in 30 countries.
Under Tiflex's ownership, Acoustic Polymers will continue to be run as an independent business servicing its existing customer base. It will also develop new products, processes and materials at its site at Churcham.
Acoustic Polymers managing director Malcolm Norris said: "We are delighted to be joining Tiflex, an organisation that shares our vision and approach to building lasting relationships with our clients.
"Their specialist manufacturing expertise will be key to delivering the next phase of our growth and I greatly look forward to working with the team in the coming years.
"I would like to thank Thrings for their unwavering support throughout the project. They expertly guided us every step of the way and were a pleasure to work with."
The Thrings' team was led by partner and head of corporate John Davies and included associate solicitor Conor Melfvin and solicitor Noah Ofulue.
John Davies, pictured, said: "It has been great to support the Acoustic Polymers team throughout their acquisition by Tiflex.
"This deal will provide them with an excellent opportunity to continue expanding their client base and improving their products, and we wish them the very best for the future."
Financial details of the deal have not been made public.
Thrings also has offices in Bristol, London, Lydney, Romsey, Ross-on-Wye and Swindon.