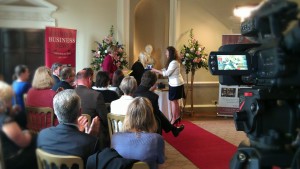 Lucille Barnes, personal assistant to law firm Thrings managing partner Thomas Sheppard, was this afternoon named as the first winner of the South West PA of the Year award, staged by Bath Business News.
Lucille received the prestigious award at a ceremony hosted by luxury Ston Easton Park Hotel, near Shepton Mallet.
The Newcomer of the Year category was won by Ruth McKibbin of Bath children's charity Quarriers and the Best Event Organised by a PA award went to Lorraine Taylor of Bristol law firm DAC Beachcroft.
The awards – the first of their kind in the region – were launched earlier this year by Bath Business News and its sister websites Bristol Business News and Swindon Business News, to champion the region's top PAs.
Competition was fierce with bosses from a wide range of businesses and public sector organisations nominating their PAs.
Collecting her Bristol Blue Glass engraved trophy from judge Peaches Golding, Lucille said she was shocked but delighted to win.
"This is for all PAs," she said. "I really wasn't expecting this. I just do my job. But it's great to win."
As well as the trophy, Lucille also won two tickets to the Ballet in the Park at Ston Easton Park along with a gourmet dinner for two.
Thrings has offices in Bath, Swindon, Bristol and London – posing logistical challenges for Lucille.
In his nomination, Mr Sheppard said: "As my PA, Luci is always several steps ahead of what is happening. My job involves me in multi-attendee meetings across our four offices and elsewhere on most working days. All my travel, accommodation, expenses, biographies of those attending and relevant meeting documents are always prepared and available sometimes months ahead to get best value for the firm and to allow me to be as focused as possible on my work.
"We work in different offices and yet Luci manages all my incoming post, emails and telephone calls and makes sure they are promptly and correctly understood and if possible resolved long before I become engaged. My meetings are planned well in advance and great thought is given by Luci to make this hectic pattern of work as manageable and achievable as possible. There is always a prioritised list of decisions and "nags" tailored to what I can achieve and managed when I cannot."
Lucille received a range of prizes, including two tickets to Ballet in the Park at Ston Easton plus a gourmet dinner, as well as the unique Bristol Blue Glass trophy.
The awards were presented following a champagne tea at Ston Easton Park,
Bath Business News assembled a top team of judges for these awards including:
Peaches Golding, former High Sheriff of Bristol and principal consultant at Moon Consulting executive recruitment & business consulting
Angela MacAusland of PA firm AMPMPA
Dawn Carey, Executive Personal Assistant at National Friendly and Hayes PA of the Year winner 2010
Linda Williams, sales manager at Ston Easton Park Hotel
Anita Jaynes, Swindon Business News business development manager
The full list of prizes were:
• A three-hour evening spa session at Thermae Bath Spa for two people, including
• Complimentary use of towel, robe & slippers for two
• Two one-course meals from the Twilight menu, with two complementary glasses of house wine, beer or soft drinks.
• Two tickets to a meeting at Bath Racecourse
• Complementary cocktails and canapés at Circo Bar, Bath
• Two tickets to see Hysteria on August 8 Ustinov Theatre, Bath
• A spa day for two at The Royal Crescent Hotel's Bath House
• Two tickets to see Covent Garden Dance Company's Ballet in the Park at Ston Easton Park on July 20 or 21. http://www.stoneaston.co.uk/events
• Business dress consultation with Suit the City and a discount off a purchase of your choice
• Voice/telephony training by Joanne Crosse at MetaMedia.