Law firm Thrings has continued to boost its expertise in property litigation by recruiting a new legal director in its Bath office.
Simon McIlroy, pictured, left, with new property litigation partner Jonathan Bouchta, will work across the firm's seven offices, representing clients nationwide in resolving complex disputes in a changing landscape owing to ground-breaking policy changes through legislation such as the Renters Reform Bill.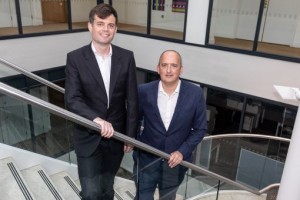 Thrings said he brought a commercial focus to the team, having acted for landlords and tenants as well as developers and those affected by the development of land.
He also boasts an acute expertise on advising around property issues relating to telecoms.
His work also sees him help private clients with property issues that they encounter, including cohabitation and trust disputes, disputed contracts, and professional negligence claims related to property.
Simon said: "I am pleased to be joining a firm that shares my commitment to putting the client first.
"Property disputes are often both costly and time-consuming, and having the right legal advice in your corner can help ensure the outcome is the best possible option, so it is great to be joining a team that seeks to deliver that each and every time."
Jonathan joins Thrings' Bristol office from GA Solicitors in Plymouth, bringing with him more than 20 years' experience in dispute resolution across the full spectrum of contentious property issues.
He regularly acts for clients in the courts on matters ranging from breaches of covenants and property contracts to misrepresentation claims and property related professional negligence.
He also has significant experience of mediation, determination and arbitration as well as providing clients with advice on reducing the risk of disputes.
Jonathan said: "It is fantastic to be a part of the Thrings team. The firm has a longstanding and well-deserved reputation for providing quality, knowledgeable advice to clients and a sterling record in in relation to resolving property-related disputes, and I am looking forward to contributing to the team's continued success."
Simon has joined Thrings' Bath office from Osborne Clarke in Bristol, where he spent just over two years as a senior associate.
Thrings partner and head of property litigation Michael Tatters added: "It is great to have both Jonathan and Simon join the firm.
"Their combined experience really pushes us forward in being able to provide the best possible advice to our clients, whether from a residential or commercial perspective."
As well as Bristol and Bath, Thrings also has offices in London, Lydney, Romsey, Ross-on-Wye and Swindon.