A £10m community building on Bath-based housing group Curo's Mulberry Park development on the edge of the city has won a major industry award for bringing people together in state-of-the-art facilities.
The Hub, pictured, topped the South West Community Benefit category at the Royal Institute of Chartered Surveyors (RICS) Awards 2019.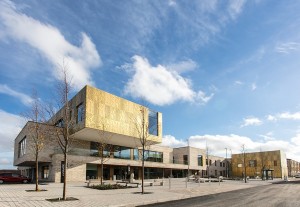 The award recognises outstanding achievement in providing a facility which directly benefits the local community and can demonstrate its success through local community feedback.
The judges said: "The resulting facilities and designs met and exceeded the vision of Curo in bringing people together and delivering state-of-the-art facilities which include a nursery, café and flexible community and business spaces that can be adapted and evolve as the needs of the community change."
The project team – housing association and housebuilder Curo, the Bristol office of international architects BDP, national construction group Rydon and Bristol-based surveyors Ridge & Partners – "for creating an exemplary community hub that is a trailblazer for future community buildings."
The Hub is at the heart of Curo's Mulberry Park scheme, fronting onto a new public square and within easy reach of Combe Down and Foxhill.
It has been created for the whole local community to use, providing flexible spaces for events and activities ranging from corporate meetings and conferences to yoga, fitness and meditation classes, children's stay & play groups, animation workshops and ballet for over-55s.
It also has a ground floor café, a 210-place primary school, a 70-place nursery and a fourth-generation all-weather sports pitch.
Curo chief executive Victor da Cunha said: "We're thrilled and very proud to win this award for The Hub, alongside our partners. It's a fantastic recognition of the important role it already plays in bringing communities together, less than half a year since it officially opened its doors last December.
"Its success is firmly based on close collaboration with local residents who have helped us to create these iconic buildings – a place shaped by the community, for the community.
"So many people – not only from the local area, but from all across Bath – enjoy the family-friendly café at The Hub every day. This community building, with its versatile rooms and state-of-the-art facilities, is already a place of choice for business, meetings and events for many local partners, charities, health providers, politicians and local people and businesses offering a wide range of courses and classes.
"We're looking for even more partners to bring much-needed services and activities to The Hub for the local communities of Combe Down, Foxhill and Mulberry Park. As a Community Benefits Society, The Hub is run in partnership with local residents and once in full operation, our vision is to transfer this fantastic building to the community to be run by and for the local people."
Architect director in international architectural firm BDP's Bristol office, Nick Fairham, said: "It has been a real honour to work on a building and with a team that truly has the local community at its heart.
"It was clear at the outset that flexibility and adaptability would be crucial – so that over time, as the community changes, and what they want out of the building alters, the Hub can be adapted to suit that changing need. And the determination to create something really special that acts as a focal point and unites the neighbourhood was really inspiring.
"We hope the Hub's unusual composition of cantilevered, overlapping 'boxes,' inspired by the site's Ministry of Defence heritage, will do exactly that."
Mulberry Park is Curo's flagship development of 700 homes, community facilities and open spaces on a 48-acre former MoD site at Foxhill.
Alongside homes for sale, Curo is also building 210 affordable homes, of which 75% will be for social rent and 25% will be available through a government-backed low-cost homeownership scheme.
So far has built 178 homes, with Phase 1 nearing completion and Phase 3 now in full swing. The development will be completed in 2025.
The South West RICS award winners will compete against those from other regions in the National RICS Awards in London in October.
Other South West winners included the £5m Wiltshire Air Ambulance New Air Base at Semington, near Melksham.