Bath-based education technology company DoodleLearning has been championed in a prestigious US awards scheme for its revolutionary maths app.
Designed to be used for just 10 minutes a day by children aged from four to 14, the DoodleMaths app uses the latest advances in learning and motivational psychology to raise attainment and boost confidence in maths.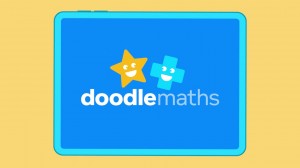 It gives children a personalised learning programme tailored to their needs, so boosting their confidence and ability, while its thousands of interactive exercises explore numerical reasoning and problem-solving in a fun, approachable way, giving children core skills they can use in the classroom and beyond.
The app took first prize in the Primary Education category of the Tech & Learning Awards, which have been recognising excellence in education technology for more than 40 years.
DoodleLearning was launched in 2011 by maths teachers Tom Minor and Nicola Chilman after watching their children playing on their tablets.
They realised the potential in using tech to teach and decided to create an app that would combine different learning styles, work alongside class-taught lessons and encourage children to learn in a fun and personal way.
Since then its four Doodle programmes covering maths and English have been used by more than 1m children and is also used in hundreds of schools, in the UK and in the US, Australia, Mexico and Dubai.
Last August the firm was acquired by Discovery Education, the global leader in curriculum-aligned digital resources and professional learning for primary and secondary classrooms.
Discovery Education UK and international managing director Howard Lewis said: "This award will further motivate us to create state-of-the-art services that will prepare learners for tomorrow by creating innovative classrooms connected to today's world."
DoodleLearning has committed to a two-year partnership with a Bath-based charity Mentoring Plus to help raise vital funds to support young people experiencing challenging situations.
It has also worked with the Bath Digital Festival to engage children with the world of tech and has supplied 1,200 Kindle Fires with DoodleMaths pre-installed to schools in Nigeria.