Ethical tea firm Pukka Herbs' Keynsham head office has been named as one of the best workplaces in the South of England.
Judges for the annual British Council for Offices' (BCO) regional awards described Herb House – part of the former Cadbury's chocolate factory development at Somerdale – as having "restorative, relaxing and playful spaces".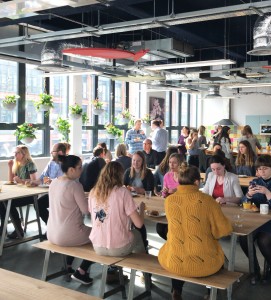 As a result, it won the Fit- Out category of the contest, which recognises the highest quality developments in the UK and sets the standard for excellence in the office sector.
Pukka relocated its HQ from South Bristol – where it was based in an office formerly occupied by supermarket group Somerfield – to Keynsham just over a year ago, ending a five-year search for an appropriate location.
The move gave it the opportunity to create a workplace full of plants and natural light for its 100-plus employees.
Staff can make use of the many 'think' and 'phone' pods for privacy and concentration, a large kitchen is designed for socialising while there is also a tech free retreat and yoga space.
BCO said its designers had successfully incorporated the company' ethos of the ethical and sustainable use of nature into its workspace, making it "a great environment for staff members to harness their creativity and work to their best potential".
South of England and South Wales judging panel chair Alistair Allison, who is also a partner in property consultancy TFT's Bristol office, said: "Pukka Herbs have achieved a unique opportunity by combining the ethos of the company into the office space they occupy, and this made them a worthy winner. They have not only created a fantastic place to work but have addressed every area from design to biophilia and succeeded in all areas."
BCO South of England and South Wales regional committee chair Andy Heath, a partner in Bristol with property agents Cushman & Wakefield, said Pukka's office designer Claremont had succeeded in providing the firm with a combination of restorative, relaxing and playful spaces while embodying the brand's "come alive" positioning.
Pukka, which is owned by Unilever, and the other South of England and South Wales award winners will now compete with those from other regions at the BCO National Awards in October.
The lead sponsor for this year's BCO Awards is ISG while category sponsors are AECOM, Hurley Palmer Flatt, Jackson Coles, Luxonic Lighting, Nucom, SAS International, Waterman Group and Troup Bywaters + Anders. The awards are in association with EG.
Last year Herb House earned the title of Happiness Workplace in Somerset in the regional Happiest Workplace competition staged by Bristol interior design consultancy Wylde IA to champion businesses that ensure their staff are cheerful and fulfilled.