Bill Vasilieff, the founder and chief executive of Bath-based financial services firm Novia Group, has died suddenly, it was announced today.
One of the city's highest profile business leaders of recent decades, Bill, pictured, who was 68, was a proud Scotsman and lifelong Bath Rugby supporter.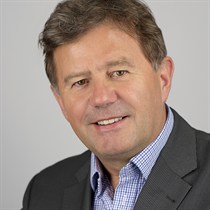 Under his leadership, Novia became a major backer of the club, with its shirt sponsorship between 2011 and 2014 making it one of the most recognisible brands in the city.
The formal partnership has continued since then with Novia's branding used on the team's training kit along with naming rights on the Novia Stand (South Stand) at The Rec and matchday hospitality. It also struck a deal to sponsor the laptops used by the club's coaches and analysts.
Bill also raised considerable amounts of money for Bath Rugby Foundation, the club's charitable arm which helps around 3,000 vulnerable youngsters to succeed through inspiring programmes that focus on health, education and employability.
Tributes have been flooding in to Bill this afternoon, praising his impact and influence in the finance sector and his no-nonsense approach to business.
Before launching Novia in 2008, he was a director of Selestia platform before leaving following its merger with Skandia's MultiFunds.
Starting from scratch with Novia, he built it up to become one of the UK's leading wealth management platforms capable of competing against the giants of the financial services industry.
Following the firm's acquisition by international private equity firm AnaCap Financial two years ago he stepped back from his role at Novia but came out of retirement this year to become chairman of the UK arm of Swedish wealth manager Söderberg & Partners.
In a joint statement today Novia Global and Söderberg & Partners said Bill died yedsterday "suddenly and peacefully surrounded by his family".
The statement added: "Bill was a true innovator and pioneer in the financial services sector whose impact and influence were widespread.
"His meticulous work ethic spanned many decades across multiple industries.
"While he was undoubtedly an industry legend, his true passion and drive was for his family, whom he always put first."
Five years ago Novia formed the Novia Foundation to more efficiently channel its fundraising efforts in Bath, where its main beneficiary has been Mentoring Plus, a charity helping young people who are struggling with school, family or wellbeing.
Bill is survived by his wife, son and daughter, who have asked for privacy at this time.
Details of a memorial service are set to follow in due course. Among the tributes was one from Pippa Russell, director at Novia's former PR firm Russell Communications.
She said: "So sad to hear the awful news about Bill Vasilieff. A true industry legend. I first started working with him when we launched the Selestia platform back in 2001 and he has been so supportive and generous with his time ever since. His energy and depth of knowledge is truly inspirational. Thinking of his family at such a terrible time."
Novia is now operating under the Wealthtime brand. In a statement, Wealthtime said: "We're devastated to hear of the passing of Bill Vasilieff. Bill paved the way for the platforms of today and put his heart and soul into building Novia. We know he will be greatly missed. Our thoughts are with his family during this difficult time."
Wealth management industry firm Multrees Investor Services added: "Very sad to hear of the passing of Bill Vasilieff. Bill was a valued member of the Multrees non-executive team and his contributions to the business helped shape who we are today. Our thoughts and condolences are with his family and friends."