The Roman Baths are more popular than the Eiffel Tower, Central Park and the Tower of London among Tripadvisor reviewers, who have voted it the world's eighth best attraction and number one in the UK.
The accolades in the latest Tripadvisor Travellers' Choice Best of the Best Awards are a huge boost for the Baths, which suffered a near 73% fall in visitor numbers in 2020 to just over 350,000 compared to 1.3m due to the pandemic lockdowns.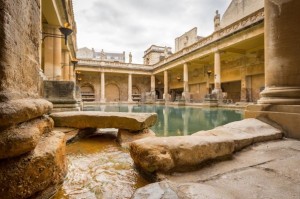 That sent it tumbling to 51st place in a table of most-visited UK attractions as outdoor attractions such as gardens, parks, forests and zoos reaped the benefits as those predominately indoors were forced to close for long periods or reduce their opening hours.
But the Tripadvisor Awards, which were established in 2002 and are decided by reviews and recommendations posted on its site by travellers, reflect an amazing bounce back by the Roman Baths, which are owned by Bath & North East Somerset Council.
Those rated as the Best of the Best are drawn from the top 1% of attractions with positive reviews.
The Travellers Choice World Top Attractions table has Barcelona's Sagrada Familia in top spot, with the Colosseum in Rome and the Empire State Building in second and third place.
The Roman Baths, which was one place below the Iguazu Falls in Brazil at eight in the table, attracted more than 26,500 reviews on Tripadvisor over the past year, with typical headlines being 'wonderful cultural experience', 'great experience' and 'fabulous'.
The Tower of London was in 11th place, New York's Central Park 12th and the Eifel Tower at16.
The Roman Baths also beat the Tower of London into second place in the UK Travelers' Choice ratings, with London's Sky Garden at third and Arthur's Seat in Edinburgh claiming fourth spot.
The Baths' success comes shortly after the opening of two major new attractions in the city. The World Heritage Centre around the corner from the Baths on York Street celebrates Bath's unique cultural offering as a UNESCO World Heritage Site and gives visitors an insight into what makes the city so special.
The state-of-the-art Roman Baths Clore Learning Centre is based in a former Victorian spa laundry building next to the Baths and an area of Roman remains beneath street level.
It allows pre-booked school and community groups to learn about the site's history and heritage in a hands-on and accessible way.
Tripadvisor, the world's largest travel platform, said its award winners were loved by travellers – "real travellers going, trying, and sharing your experiences," it added.
"They're the iconic landmarks you simply have to see to believe."
Tripadvisor has attracted around 1bn reviews and opinions of more than 8.6m attractions, restaurants, airlines and cruises worldwide in 28 languages.