Bath-headquartered alternative lender Time Finance has appointed two business development managers to its invoice finance team.
Tariq Bourdouane and Thomas Ludden have joined as the firm aims to double its invoice finances sales team this year, expanding its presence across the UK.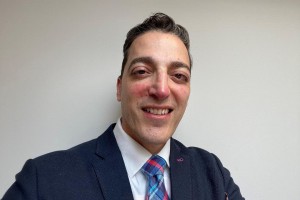 The business has recently welcomed Neil Fullbrook and Casey Baldwin as business development managers covering the South East, North East and Lincolnshire regions.
Tariq, pictured right, will be responsible for building and maintaining strong introducer relations across the North West, helping businesses gain access to the funding support they need to thrive through his growing intermediary network.
He has with more than 17 years' experience working in the invoice finance sector, having spent time in business development management roles at Aldermore Invoice Finance and Lloyds Bank Commercial Finance.
Thomas, pictured below, will be responsible for building and maintaining strong introducer relations across East Anglia and the East and West Midlands, supporting their clients with tailored funding.
He has 14 years' experience in the sector having worked in client services and business development roles at Bibby Financial Services, before moving to Giant Pay (Outsauce), where he specialised in delivering invoice finance solutions for the recruitment sector.
Mostly recently, he held a position as regional director in Ultimate Finance's invoice finance team.
Time Finance head of sales (North) Andy Hume said wealth of experience and strong presence in the North West made him an outstanding addition to the team as it looked to take on larger deals and develop its multi-product offering.
"As a national sales team, we're dedicated to providing businesses with valuable and essential financial solutions," he added.
"Our aim is to help businesses unlock working capital which will allow them the headroom and flexibility to prosper. With ambitious growth objectives, our focus remains on empowering UK SMEs by offering accessible Invoice Finance solutions.
"Tariq's appointment plays a pivotal role in our ongoing expansion efforts, ensuring we can successfully accomplish these goals as we extend our reach throughout the UK".
Head of sales (South) Adrian Payne said Thomas's extensive experience in the invoice finance sector and proven track record in business development made him a valuable addition to the company.
Time Finance, which supports more than 10,000 business owners, provides asset finance, business loans, vehicle finance amd asset-based lending as well as invoice finance.
Invoice finance can relieve the pressure on cashflow by releasing up to 90% of the value of unpaid invoices.
As a result, businesses can access additional working capital and use the funds to support day-to-day cashflow requirements or fuel investment plans.