Truespeed, the Bath-based full fibre broadband provider, is celebrating connecting 300 business across the South West to its network.
The firm, which started out as a community interest company in 2014 to help level-up the region's digital capabilities, said its business customers were reaping the benefits of its guaranteed speed connectivity.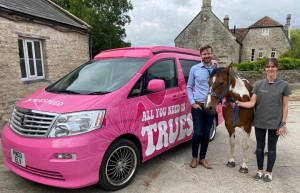 Truespeed's state-of-the-art network delivers symmetrical upload and download speeds of up to 900Mbps for small to medium-sized businesses, and up to 10Gbps for enterprise businesses.
The firm said it was delighted it had been able to bolster the region's economic prosperity, particularly in area's ignored by its larger rivals or where they only offer slow broadband speeds and less reliable connectivity.
As a result, its 300 business customers were now competing on a level digital playing field, it said.
Truespeed is rapidly expanding its network having received £100m from Aviva Investors two months ago.
The investment was the largest funding since Truespeed's launch and its second investment from the global asset management arm of UK-based insurance giant Aviva, following on from £75m in 2017.
Truespeed CEO James Lowther said: "Truespeed is working tirelessly to improve connectivity across the South West and we're thrilled to have connected 300 businesses to ultrafast broadband.
"It's great that Truespeed is helping so many local businesses thrive by providing full fibre broadband they can rely on."
The 300th business to be connected by Truespeed was Kelston Vets, based in the village of the same name near Bath.
It said it had been able to transform its animal diagnostics thanks to ultrafast connectivity, helping pets recover and be reunited with their owners as quickly as possible.
Veterinary practitioner Ian Cardiff said: "Our in-house laboratory equipment and digital x-ray system rely on a fast and reliable connection.
"Truespeed's broadband allows us to send, receive and share patient's results instantly, leading to a more rapid diagnosis and effective treatment plan.
"Truespeed took the time to understand our business and suggested a package that best suited our broadband requirements.
"We're looking forward to growing Kelston Vets knowing all our online needs are covered, so we can continue providing exceptional care for animals and their owners."