The University of Bath's newly appointed vice-chancellor's 'collaborative' approach will bring a new sense of trust and community to the institution, those involved in his appointment said this week.
Prof Ian H White, pictured, who will take up the post next April, will succeed Dame Glynis Breakwell, who stepped down last month following a long and bitter dispute over her salary.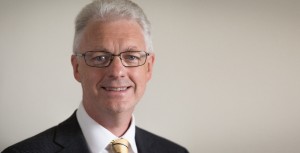 A stream of revelations about Dame Glynis' £468,000 pay and benefits package, which made her the UK's highest-paid university vice-chancellor, sparked a national debate and led to protests by students and staff as well as a vote of no confidence the university's senate, which she narrowly survived.
Prof White, who is currently van Eck Professor of Engineering and a deputy vice-chancellor at the University of Cambridge and Master of Jesus College, will be paid an annual salary of £266,000. Unlike Dame Glynis, he will not receive a car or finance for one and will not be provided with free accommodation or first-class travel.
Prof White is actively involved in academic research as head of the centre of photonic systems in the Engineering Department at Cambridge University. Other leadership positions he has held at Cambridge include pro vice-chancellor for Institutional Affairs and head of the School of Technology.
He has a strong existing affinity with both Bath and the wider West of England having been professor of Physics at the University of Bath from 1990-96 and then head of the Department of Electrical and Electronic Engineering at the University of Bristol.
President of the University of Bath Students' Union Eve Alcock, who was a member of the final interview panel, said: "The recruitment process for our new vice-chancellor was transparent, inclusive and wide-ranging. Students and staff had input and representation throughout and so we had the chance hear about Ian White's values and vision for the university. As a result, I am confident that Ian White is the right choice for Bath. I believe we can all look forward to an exciting and bright future for our university."
Chair of university's council, Thomas Sheppard, added: "His exceptional academic record and demonstrable excellence across teaching, research, innovation and high-level university administration will be of great importance for the university in this very challenging time for the sector.
"I also believe that his values and collaborative leadership approach will make him the perfect candidate to work with the entire University community and its local, national and international stakeholders."
Senior lecturer Dr Susanne Gebhard said Prof White impressed with his acute awareness of the current strengths and needs of the university.
"His ideas on how we might further develop over the coming years were creative and exciting. His clear emphasis on building a sense of trust and community within the university will, I am sure, resonate well with staff and students alike."
Prof White said: "It is a real privilege to be joining the University of Bath at such a key moment in its history, having recently celebrated its 50th anniversary. It is a university community I care deeply about, having worked here at an early and very significant stage in my academic career.
"The founding vision of Bath, that of providing a rigorous and relevant education to students, and serving society through world-class research, resonates profoundly with me. I firmly believe that Bath can build on its considerable success to date, maintaining quality and enhancing innovation."
Prof White will take up his position on April 8 next year from current acting vice-chancellor Prof Bernie Morley.