Collaboration will be key for automotive firms to meet the biggest challenges in the industry's history over the next decade, an industry event hosted by the University of Bath heard.
The Automotive Industry Network gathering was organised by the university's Research and Innovation Services (RIS) and brought together individuals, businesses and organisations operating regionally and nationally in the automotive sector with academics to address the latest issues in the industry.
Attendees had the opportunity to hear presentations from sector leaders including Mark Mathieson, director of innovation at McLaren Applied Technologies, Chris Brace, prof of Automotive Propulsion at the university, and innovation director of the SETsquared incubator network Simon Bond. The event also included a range of workshops and panel discussions.
Mark Mathieson said: "This type of event is very important, bringing people together to discuss some really significant topics facing the automotive sector.
"No-one should underestimate the size of the challenge we are facing. It is widely accepted the automotive industry is going to change more in the next 10 years than it has in the past 100 years so there is an awful lot of things for us to face up to and collaborating and sharing knowledge is key to that."
Dean of the university's Faculty of Engineering & Design, Prof Gary Hawley, provided an update on the latest progress and the vision and priorities of its new £60m automotive propulsion research facility – the Institute for Advanced Automotive Propulsion Systems (IAAPS) – scheduled to open in late 2020 on the Bristol & Bath Science Park.
Prof Chris Brace said: "This event was designed to identify opportunities to help small, dynamic companies to get to the next stage in their growth as well as assisting more established companies to access the innovative ideas that they need to maintain and develop their business."
A number of vehicles were on display at the event, including the IAAPS team's BMW i8 test vehicle, and Team Bath Racing Electric (TBRe) 2018's racing car, which has recently returned from representing the UK at Formula Student Electric China.
There was also an exhibition area where attendees could showcase their work and network throughout the day.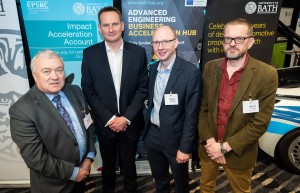 The event which was funded by the EPSRC Impact Acceleration Account (IAA) and was followed by a drinks reception to officially launch the Advanced Engineering Business Acceleration Hub (AEBAH), the latest enterprise hub to be set up by the university in partnership with SETsquared.
The AEBAH is funded by the European Regional Development to create jobs and growth in the region by helping 130 innovative companies in the West of England achieve their potential. The hub will also connect companies with academics at the university for knowledge exchange, research and expertise, as well as business-university research partnerships. The programme is open to all SMEs and start-ups in the advanced engineering sector, and will be of particular interest to companies interesting in engaging with IAAPS.
SETsquared's Simon Bond said: "I am really excited to have launched the university's Advanced Engineering Business Acceleration Hub. The automotive sector is hugely exciting and interesting so events like this bringing together businesses, industrial collaborators and researchers is a great opportunity to identify how best to work out a roadmap for innovation and how we can better work together in the future."