Shares in Bath-based media group Future shot up by nearly 11% to a new record high in less than two hours after it released a London Stock Exchange update saying its current trading is stronger than it expected.
The acquisition-hungry group, which last month snapped up Washington DC-headquartered digital media publisher SmartBrief for $45m (£37.2m), said it had seen a positive performance from Amazon Prime Day-related activity and strong ongoing trading in the US, where it now earns more than half its revenue, over the past three months.
It had also enjoyed some additional benefits from foreign currency translations. As a result, its full-year headline earnings are now expected to be "materially ahead" of directors' expectations, the trading update said.
Audience continued to perform well across the business, and was a core underpin of the stronger revenue performance, Future said.
The integration of the business-to-consumer arm of leading US publisher Purch, which it bought for £100m a year ago, had expanded its reach in the US market and was now nearing completion.
The deal added popular US tech and science platforms such as Tom's Guide, Tom's Hardware, Space.com and Live Science to Future's burgeoning US portfolio,
Integration of the cycling portfolio was also going according to plan, Future said. The group acquired Cycling News and Procycling Magazine in February – five years after it sold them, along with most of its sports, craft and hobby magazines and websites, to Bristol and London-based Radio Times publisher Immediate for £24m to stave off a looming financial crisis.
At the time Future had slid into the red by £700,000 in its interim results and was embarking on a root-and-branch overhaul of the business. Following the takeover, Future has launched a new mountain biking brand Bikeperfect.com.
The group continued to show positive momentum in revenue growth in all core areas and its cash conversion continued to be excellent, the trading update said.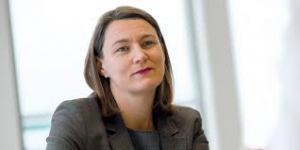 The group expects to publish its full year results for the year ended September 30 on November 15.
Future's share price reached £13.50 yesterday morning – a rise of 10.8% on the day. A year ago the shares were trading at 455p. This morning the shares touched £13.40 before easing slightly at lunchtime.
CEO Zillah Byng-Thorne, pictured, who is credited with spearheading Future's revival since joining six years ago from Auto Trader, where she was interim CEO, said: "Our strategy of growing our core business through expanding our audience and reach in existing verticals is bringing further momentum.
"Integration of our acquisitions is on track and we now have a substantial presence in the US. We are successfully leveraging our brands on our technology platform, driving strong growth across the business."
Future's Media division has titles in the technology, gaming and entertainment, creative and photography, music, home interest, hobbies and B2B sectors with brands such as TechRadar, PC Gamer, Homebuilding & Renovating Show, Guitar World and Space.com
Its Magazine division focuses on publishing specialist content, with 80 publications and around 540 bookazines published each year, totalling global circulation of 1.2m.
The Magazine portfolio spans technology, gaming and entertainment, music, creative and photography, hobbies, home interest and B2B with titles such as Classic Rock, FourFourTwo, Total Film, What Hi-Fi? and Music Week.