James Ward-Lilley, the chief executive officer of innovative pharmaceutical firm Vectura, is to step down at the end of this month just over three years after turning it into a £1bn business.
James, pictured, joined the Chippenham-based firm, which pioneering new ways of treating asthma and lung diseases, in June 2015 from pharma giant AstraZeneca.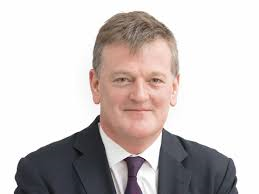 Less than a year later he helped mastermind Vectura's £440m merger with London-based Skyepharma, creating one of the UK's leading specialist pharmaceutical firms with a combined turnover of £1bn.
In a statement to the London Stock Exchange, Vectura said Mr Ward-Lilley will be stepping down from the board and his position as CEO on June 30.
It added: "James was brought in at a critical time for Vectura and has been instrumental in executing and successfully integrating the merger with Skyepharma, creating an industry-leading inhaled airways disease-focused business, with a broad range of device and formulation capabilities, underpinned by strong intellectual property.
"Looking forward, Vectura's core focus will increasingly be on leveraging these capabilities to develop new partnerships and revenue streams as a leading provider of enhanced inhaled drug delivery services."
Chief financial officer Paul Fry will assume become interim CEO in addition to his current responsibilities while a search for a CEO successor takes place.
Vectura chairman Bruno Angelici said: "I would like to express my sincere thanks to James for his distinguished leadership of the group. Following the successful merger with Skyepharma in 2016, James has demonstrated great resilience building an effective and robust business.
"This has been reflected in strong 2018 financial and operational performance, followed by positive news flow this year. During his time he has also built a culture of effective employee engagement and a significantly strengthened and talented team.
"The board and James have agreed that after four years as CEO it is now time for a new leader to take Vectura through its next phase of development."
Mr Ward-Lilley said 2018's strong results and a positive start to 2019 underlined the firm as a growing, cash-generative business with a strong balance sheet and "positive pipeline momentum".
He added: "I am proud to have led the business over the past four years as CEO particularly through the transformational integration with Skyepharma. I will leave Vectura in a strong operational and financial position with a robust leadership team as the group enters the next phase of its evolution."
Vectura, which was part formed from a spin-out from the University of Bath, develops inhalable dry-powder drugs that treat lung conditions such as asthma, emphysema and chronic bronchitis. Skyepharma has a similar product range.
It has grown rapidly through development collaborations and licence agreements with global pharmaceutical and biotechnology companies such as Novartis, Sandoz and GlaxoSmithKline.