The Apex City of Bath Hotel has installed virtual conferencing technology as it prepares to reopen following the easing of the coronavirus lockdown.
The hotel, which houses the city's largest purpose-built conference and events facilities, believes the future of the MICE (meetings, incentives, conferences and exhibitions) industry is based on increased use of technology – allowing delegates to take part in events without leaving their office or home.
The 177-bed, £50m hotel – part of the national Apex chain – opened nearly three years ago as Bath's only purpose-built city centre conference facility.
It can already hold up to 400 people theatre style in its main Lansdown suite with nine other rooms capable of staging meetings of various sizes.
Through its partnership with events specialist Genero Group, which has offices in Bristol, Cardiff and London, it will also be able to set up meetings online for clients, allowing them to combine standard conferences with the opportunity for virtual delegates to network, join break-out sessions and take part in live discussions.
Events can also be recorded for anyone unable to attend in real-time to view later.
Apex group MICE sales director Phil Bailey said the technology would prove beneficial not only while social distancing measures remained in place but well beyond the pandemic.
"At Apex we are aware that there is now a need for new ways for our clients to be able to continue to hold conferences, business meetings, and networking events," he said.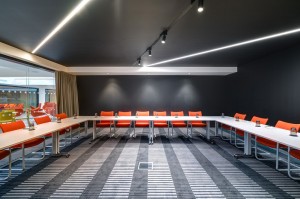 "We aim to provide that solution whilst working with local businesses who will be on-hand to fit and set up all the equipment needed for each meeting – and our clients will be able to get their knowledge and expertise first-hand from each company.
"This allows us to accept bookings for conferences of 400-plus delegates which normally we wouldn't be able to accommodate.
"This is not a replacement of our current conference offering, as always we are working on ways in which we can enhance our services and give our clients more options."
He said the future of conferences and events was a hot topic in the industry right now and the Edinburgh-headquartered group was working on how it could offer digital services across its 10-strong portfolio of four-star hotels, which include four in Edinburgh, three in London and one each in Glasgow, Dundee and Bath.